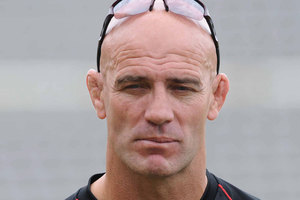 Former All Black coach John Mitchell is to face a disciplinary hearing by South African Super rugby franchise the Lions.
Rugbyweek.com reports that at least 20 players have listed formal grievances against Mitchell.
Players are said to have been unhappy with Mitchell for some time but last week put their complaints in writing as verbal complaints were not yielding results.
An emergency board meeting last Thursday agreed that Mitchell be suspended.
The complaints are said to be about his lack of professionalism, and his continual swearing and belittling of players in front of their peers.
Springbok lock Johan Ackermann has taken over coaching the Lions.
Lions president Kevin de Klerk said the franchise was fortunate to have two experienced assistant coaches [Ackermann and Carlos Spencer] who could step in.
"We are formalising our case and will issue our disciplinary document some time this week," de Klerk told the Times.
"I want to make it clear that the decision to suspend John was not a knee-jerk reaction but a decision that came from a well-documented list of grievances.
"People forget that players are professional employees these days and, as such, have labour rights and are allowed to exercise those rights through the correct channels.
"I know it looks like John's position, regardless of the outcome of the disciplinary hearing, is untenable but I can't say that is definitely going to be the case.
"He needs to have his hearing, which is a legal right, and we can only go forward from there."