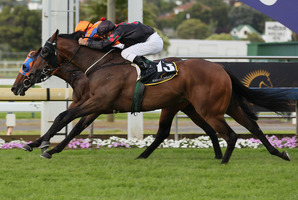 Matt Cameron and Lisa Allpress take their vintage battle for the New Zealand jockeys' premiership to Tauherenikau today.
But you probably don't really care about that.
The friends and families of the two wonderful jockeys will care. A lot.
So, too, will the trainers who support them, maybe even the owners of some of the 280-odd winners they have kicked home between them since last August.
And then there are the diehard racing fans, the sort of people who still buy the Racing Annual and have conversations at the pub about whether Show Gate was better than Grey Way.
But to the average punter who walks into a TAB or logs onto a betting website this week, the New Zealand jockeys' premiership sadly means next to nothing.
That is because the industry places no real worth on what should be its most illustrious title.
We should. Winning the premiership takes years of dedication, sacrifice, enormous courage and phenomenal support.
Horse trainers are the tactical brains on the equine side of racing, like a coach in sport. But jockeys are the rock stars.
Think James McDonald. Before him Michael Walker, all tattoos and tongue poking.
In fact, Walker actually behaves like a rock star.
And Noel Harris. Well, he is virtually Keith Richards carrying a saddle.
Then there is Opie Bosson, Lance O'Sullivan, back to the Skelton boys and even the great Grenville Hughes.
Trainers have followers, jockeys have armies of followers.
And yet when Cameron, or less likely Allpress, wins the premiership on July 30, the reward will be little more than pride and maybe a night off from the diet. Yesterday, Cameron with 142 winning mounts, held an advantage of five over his rival.
There is no financial incentive to win the premiership. After McDonald's feats on both sides of the Tasman and in Hong Kong, the premiership winner may not even be recognised as our leading jockey at the annual awards.
And for punters, the premiership is a complete non-event.
Because you can't bet on the premiership with our TAB.
Note to TAB: If you want punters to be interested in something, it helps if they can bet on it.
In recent years inquiries to the TAB asking why we don't bet on the premiership have been batted away because of the rules.
But those rules have clearly changed because the TAB has a book open on this season's jumps jockeys' premiership.
So you can bet on who will be our leading jumps jockey, but not on who will be our best jockey, our rock star.
The good news is there is light at the end of this strangely dark tunnel.
TAB bookies have confirmed to the Herald they are considering betting on the jockeys' premiership next season.
Which is, although late, a great idea because, to be honest, there isn't a lot else to get excited about on the flat over winter.
However, imagine a see-sawing jockeys' premiership, with Cameron and Allpress jumping on planes all around the country competing for, say, the Skelton Trophy, a $5000 travel voucher (jockeys travel a lot, you know) with punters following their every move.
That has the potential to make the lowly Oamaru meeting on July 30 a thriller. Instead, almost certainly, that meeting will be run without fanfare, interest or any sort of audience.
But does betting on a premiership, does rewarding its key players, make it any more relevant?
Ask Luke Nolen.
Mr Black Caviar flew home almost immediately after his Royal Ascot controversy on Saturday to be back at Caulfield yesterday because he is locked in a battle with Craig Newitt for the Victorian metropolitan premiership.
Their clash will be mentioned relentlessly, every time one of them has a winning chance for the next month, providing free publicity for the industry and making a cold Wednesday at the races seem more important.
The big corporate bookies in Australia have made the premiership relevant - by betting on it.
And punters like it when they can bet on things. That is how it works.