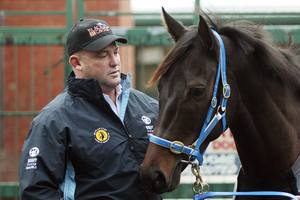 If Black Caviar's "big engine" shut down on Luke Nolen in Saturday's epic Diamond Jubilee Stakes, it was nothing compared with the big engine of trainer Peter Moody's hire car after racing - it wouldn't start at all and he had to call the AA.
Moody had the option of going to London for a party or back to Newmarket and, at the end of a very long day not made any shorter by the last few metres of the Diamond Jubilee, he opted to follow his great mare back to headquarters, reports the Racing Post.
Near to where he was parked, four trainers - Ralph Beckett, George Baker, Andrew Balding and John Berry - were having a drink and discussing Black Caviar over a picnic.
They saw her forlorn trainer, invited him over and got the debrief.
Complaining of being champagned-out, Baker was able to provide the Queenslander with a couple of cold "tinnies". It ended up with the rather magical sight of the trainers, two of them classic winners no less, asking Moody to sign their racecards.