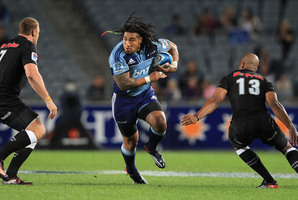 Here's a way to start fixing the rugby Blues. Stop calling them the Blues.
"Blues" is a sop, an insipid name devised by people who wanted to represent a region without any idea or plan of how to do it. Volcanoes would be more appropriate these days, because this outfit has a crater empty of ideas and a dormant team.
However, the Blues should start again on a private enterprise note, by picking a handle that has nothing to do with volcanoes, a beautiful harbour, aggressive bus drivers, westie culture, orange road cones or Cornwall Park.
Manchester United aren't superstars because of Manchester. They rule because of Matt Busby and Alex Ferguson. The Crusaders don't dominate New Zealand rugby because they are in Christchurch. They owe everything to Robbie Deans and co., and get players from all over the place.
Australia's often-best Super team, the Brumbies, play in an outpost. The best NRL club is in Melbourne, a league wasteland.
The worst Australian rugby team is the Waratahs, from the rugby heartland.
Clever, pig-headed people make professional clubs tick successfully, not the location and amateur-style processes. The Blues need to get rid of their Auckland and regional hang-ups. The rugby region also needs to let them go to get something worthwhile back.
The Blues could call themselves the Auckland Stompers and get aggressive. They should see the advantages of being situated in Auckland as part of a much larger picture. The style and mantra of the team should not be dictated to by what players are on the doorstep. They should use the location for all they are worth and abuse the privilege if they feel the need.
The Blues have been hanging on to the NZRU's world with one hand, and yanking our chain with the other. We are all sick to death of their namby-pamby losing ways.
When faced with the obvious need for a new coach, the Blues should have aggressively chased a target down with a can't-refuse offer. Instead, they have been left waiting for applications. Letting Lam reapply for his coaching job reveals an organisation unable to make straight forward decisions, let alone more complex ones.
"Thanks for putting everything into the job, all the best for the future, and can we have the keys to our car back?" is what Lam should have been told during this diabolical Super 15 season.
Yes, Lam had injuries to deal with. But he had plenty of time to create a squad that could cope with that, in over three years with the Blues and five years as coach of Auckland. That's FIVE YEARS in charge of the feeder team. People forget that. And remember this - the Crusaders lost half a team of All Blacks for half of 2007 and still made the semifinals. The Chiefs have turned their fortunes around in an instant with new coaches. The previously sick and sorry Reds from a league town with an Aussie Rules bent won the title last year.
Lam should be sacked because.-
a) He failed to sort out the lineout, Piri Weepu and halves combination;
b) Played an out-of-the-blue race card when his chips were down, when his team should have been focusing on the job instead;
c) Started a hopelessly inadequate young prop against the might of the Crusaders when there was no reason to do so;
d) Is submerged in and completely tainted by the most disastrous period in Auckland rugby history;
e) Reappointment would undermine the franchise leaving him with reduced authority. His desk plaque could read "They wanted to get rid of me but couldn't find anyone better."
f) Claims some players want him to stay, which means he would be beholden to them.
g) Lam's thinking is embedded in the mess leaving him incapable of cutting out a forest load of dead wood and discovering a new way.
It is a total shock to find he is re-applying. If losing the remaining games is what it takes to ensure Lam goes, then I hope the Blues lose the rest of their games then lose the name.
Test league is doomed
International league is dead, or deader than it already is. Players raised in New Zealand will now flood into the State of Origin, and many will play for Australia against New Zealand. All tests will be played in Australia, for financial reasons and all-powerful/selfish Australia's convenience. The early season test will be scrapped, to keep players fresh for the State of Origin and NRL. The test refs will be Australian. Australians will coach the Kiwis. The Aussies will be Kiwi-heavy with players like James Tamou, Sam Kasiano and Ben Te'o on board. The "tests" will be staged acts in a circus run by the great and glorious NRL commission who will hold fancy parties honouring people like Ruben Wiki. They will name a trophy after Stacey Jones. The international rugby league board, if there is one, will meet for expensive dinners and struggle to make even small gestures.
The Kangaroo symbol might as well grow a beak and the Kiwi symbol could sport a pouch that doubles as a begging bowl. Time to put the old tapes on DVD and say thanks for the wonderful test memories, league.