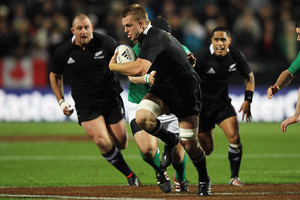 Ireland were blown off Waikato Stadium by a brilliant All Black performance that has turbo-boosted a handful of very promising test careers. Best hang fire on the long-term predictions for now however, rather than get carried away with the up-down-up whitewash of the Irish.
Ireland poured their heart into one game, in Christchurch, where they took the All Blacks to the limit. Put under pressure, the All Blacks did not respond at all well and deserved to get beaten.
In games of very different character, they charged away from the Irish thanks to fast starts in the first and third test.
Ireland were embarrassingly bad in Auckland and Hamilton and not without legitimate excuses after a long season and with a handful of key players sidelined.
Unlike New Zealand, Ireland operate off a thin veneer of quality players and can ill afford injuries.
Stephen Ferris, Paul O'Connell, Tommy Bowe, Jamie Heaslip - that's one heck of a casualty list for a smallish rugby nation coming to the end of an arduous season.
Not so the All Blacks, who were fresh and full of potential. Aaron Smith, Julian Savea, Beauden Barrett, Brodie Retallick, Luke Romano, Sam Cane ... that's an imposing list of players to unveil in one series. The new selection panel has hit the mark with every one of those and fast-tracked the development of the next All Black era.
After years of searching in vain for backups to Dan Carter and Richie McCaw, the answers are now obvious. In a significant spinoff, Cane's impressive international entry has opened the way for a McCaw positional switch, one that can extend his test career.
But the Irish, coming off an average Six Nations where they only beat Italy and Scotland, were hopeless for much of this series.
Apart from a few exceptions, particularly forwards Cian Healy and Sean O'Brien, they were substandard and offered only powderpuff defence in Hamilton.
Questions remain. Little Aaron Smith has yet to be put under the sort of blowtorch that the South Africans can apply to a lightweight halfback, clever defenders such as the Australians will be much more familiar with Aaron Cruden, Luke Romano is not a big bloke when it comes to the world of international locks, a new generation of back-up frontrowers has not been established, and experimentation is still going on with the wings.
We all have certain blindspots, perhaps related to justifying past judgments. Mine is the Highlanders wing Ben Smith - I just can't see what he brings to the test arena.
That said, the new All Black regime has made an impressive start despite the Christchurch hiccup - Saturday night was a glorious example of what All Black rugby can be about, when they play a style of rugby beyond any other country. Steve Hansen has used the Irish series very wisely, although what the Ali Williams obsession is all about, who knows? Williams is Hansen's blind spot.
Poite's rush of blood to head
Nothing takes the gloss off a terrific All Blacks performance but the Rob Kearney sin binning put a scuff mark on a brilliant shine. Referee Romain Poite got it wrong on two counts: Irish fullback Kearney attempted to scoop the All Black pass in rather than knock it down, and the sin binning also went against the way such incidents are being ruled on at the moment. Poite had a rush of blood to the head. Keeping tests as a 15 v 15 contest has to be a priority. Loath as I am to suggest another interruption to the game, the IRB might consider using video reviews before any yellow or red card decisions. International sport should not be at the mercy of such random calls.Masters of the beautiful game There has been nothing in the history of team sport to match what Barcelona and thus Spain have done in soccer. The Catalan club has dismantled the world game and put it back together in a unique way. Spain's mastery of possession, the intricate patterns of control, was again something to behold against France in the European quarter-finals. The world champions are utterly fascinating to witness and among those forced to watch were the French players for a lot of the game.