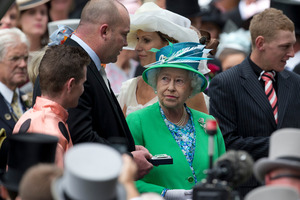 When you read this Peter Moody will still be drinking.
It won't be celebratory champagne, it will be alcohol soothing wrecked nerves. Moody won't know what he's thinking.
His body language after Luke Nolen dropped his hands (eased Black Caviar up) in the final 100m of the Diamond Jubilee Stakes was disaster, despite the narrow victory.
We may have seen the last of Black Caviar's remarkable career.
Moody stopped short of saying if the champion mare has run her last race, but certainly implied it.
At The Races reported: "Peter Moody did not blame jockey Luke Nolen after his pride and joy Black Caviar came desperately close to losing her unbeaten record in the Diamond Jubilee Stakes at Royal Ascot.
"The trainer felt there may have been other reasons why the Aussie superstar did not put in the performance that was hoped for before edging home by a head from Moonlight Cloud after Nolen alarmingly eased up close home.
"You've only got to win by a quarter of an inch - we got the job done. We never expect dominance - we never ask her for dominance. I'm an extremely proud Aussie. It's very fitting that it's with a horse like this," said Moody.
"It's always a worry when you've come 10,000 miles and I just think she's had a long season and a long trip, and I've said all week the owners were to be congratulated. She didn't travel and you've seen her at her lowest ebb, I think it's her lowest ebb in 10 or 12 races."
The most touching moment came when Black Caviar was presented to the Queen in the winner's enclosure and stood dutifully to be patted. It is almost certainly the last time she will be seen at the royal course, although Moody stopped short of announcing her retirement.
He said: "She'll go into quarantine now, so let's get her home. This was always going to be the greatest risk of her career and for the last five or six runs we've always been prepared that it might be her last.
"Hopefully, that's not the case today, but if she's as tired and worn out when she gets home, she may have graced the track for the final time. I won't hesitate in any shape or form, but let's not put the cart before the horse.
"It's just a shame your public haven't seen as great a filly as she is. She's not going to improve from here on in as she's a 6-year-old by your time, five by ours, but I'm so proud of her."
Black Caviar was later inspected by the on-course vets and given the all-clear.
Rumour was that the mare had pulled up less than satisfactorily.
One of the authoritative agencies reported: "She looked a little dull in her coat but everything was unfolding according to plan for three-quarters of the six furlongs, at least to the casual viewer, as Black Caviar cruised close to the pace and hit the front a furlong from home.
"At this point, Black Caviar is usually beyond recall, but as Nolen sat still she began to labour and left the rider cutting a sheepish figure as he returned to a packed-out winner's enclosure.
"The 32-year-old did not admit to mistaking the post, but said: 'She wasn't the same horse she usually is today and her determination got her there.
"I underestimated the testing track of Ascot. She'd had enough and that big engine throttled right down. I let her idle. I thought she'd coast and I made a mistake every apprentice is taught to avoid.
"It's unfortunate, because we're going to talk more about my brain failure than the horse's fantastic effort.
"She's 22 from 22 and it doesn't matter how far she won by, but it was heart-in-mouth sort of stuff. I thought I'd done enough but I did need some confirmation. Imagine if I'd got beat. I'd have probably been stabbed."Additional reporting, agencies