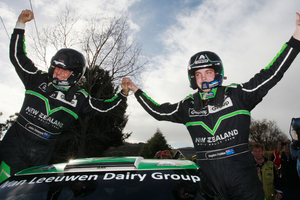 For a driver who won with more than half an hour to spare, Hayden Paddon cut a frustrated figure at the conclusion of Rally New Zealand this weekend.
Paddon was filled with ambivalence following his dominant display in the Super-2000 class, disappointed that technical difficulties - both for himself and his rivals - denied him the chance to put on a show at his home rally.
The 24-year-old easily emerged triumphant from the second-tier Super-2000 field to take the overall lead in the series, but it was hardly the weekend he had anticipated since last racing in New Zealand two years ago.
Beset by gearbox issues late on Friday afternoon, Paddon narrowly avoided a time penalty after precariously piloting his failing Skoda back to the event's base in Auckland. But it would have mattered little - the four other drivers in the field had all experienced problems of their own, giving Paddon a 25-minute advantage after the first day.
That lead had swelled to 36 minutes following the completion of leg two on Saturday, before yet more mechanical trouble reduced Paddon's final winning margin by just three minutes.
Of more interest to the Kiwi, who is aiming to race in the World Rally Championship next year, he finished 15 minutes behind eight-time world champion and overall winner Sebastien Loeb in 12th.
"It's great to get the result and the points for the championship are obviously very good," Paddon said. "But we've had a lot of dramas this weekend.
"There's been a lot of things that have held us back. This is the one rally where we really wanted to show some speed and we were unable to do that."
If the car prevented Paddon from achieving his stated aim of finishing in the top 10 overall, he would have at least liked some pressure from the rest of the field. That prospect was all but ruled out following the Friday's carnage, rendering the weekend little more than practise.
"I guess that does take a little bit of the fun aspect out of it, when you haven't really got the competition," Paddon said. "It does get a little demoralising at times when you get to the end of stages and all you've got to look at is WRC times in front of you."
One positive for Paddon was finishing as the first New Zealand driver after he pipped Richard Mason, who won the New Zealand championship section of the rally, by 33 seconds.
That may not have eventuated had Paddon pulled the plug late Friday afternoon when he drove the last two stages without the benefit of a second or sixth gear.
"We could have pulled out before the last stages and not damaged the gearbox any more, but we decided we wanted to try and be first Kiwi driver so we basically battled through and got through the end of the day."
Paddon won the production class last year to earn his elevation to the Super-2000 category, and his win in New Zealand left him in pole position to repeat the dose in 2012.
"It's certainly looking promising but it's still very early stages - we're only three rounds in of the seven. There's a long way to go."
If Paddon does get there his win on his home turf could prove pivotal, if not all that pretty.
"It's been one of those rallies where you just wanted to get to the end. We've done that - not the way we wanted to but we've got here."
- APNZ