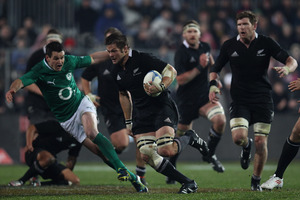 Steve Hansen and Robbie Deans rarely agree so it is no surprise they hold differing views on who is currently the world's best openside.
Deans, perhaps predictably as he attempts to endear himself to an increasingly sceptical public, reckons David Pocock is the best player he's ever seen over the ball.
Hansen, with equal predictability, still feels Richie McCaw is the better player; still the best openside in world rugby.
Strangely, they are probably both right, despite the dissenters who are overly keen to brand McCaw a spent force.
Pocock is brilliant over the ball but that's pretty much all he's got. It is a show-stealing skill, though. Pocock makes his presence felt; he ferrets turnovers from an impenetrable mass of human flesh and leaves his audience in awe.
There was a time McCaw used to do the same. But not so much now, and in the simplistic world of the armchair analyst, that represents a changing of the guard - irrefutable evidence the All Blacks skipper is on the wane.
McCaw deserves more of a hearing than that.
He makes fewer steals these days, not because he's ailing athletically or losing his natural instincts, but because his game and the All Blacks game have evolved.
He was never much of a ball-carrier in his early days but now he's probably, next to Kieran Read, the best the All Blacks have in their pack. He's always been a tackler but now he hits harder and more often. Rather than play for the steal, he's focused on the cleanout and he's become one of the more secure lineout options. McCaw wears No 7 but plays more like a blindside.
He's not less effective, he's just offering a different set of skills and Hansen, who in his new capacity as head coach has shown a remarkable capacity for astute observations, is convinced a rugby god is still in the midst.
"Richie has developed his game, while Pocock gets recognised for a lot of the work he does over the ball," says Hansen.
"He is good at it - there is no doubt about that. But I think Richie's got a complete game, hence why I think he's the best No 7 in the world.
"He's either top of the tree or just under the top of the tree in every asset you want him to be good at, plus he's got the added bonus of being so composed under huge amounts of pressure."
He's perplexed there could be an alternative view about the skipper, especially as it appears to be based on the premise that McCaw failed to chase down a wing with a headstart in the first test.
He was left for dead, but McCaw was the only All Black to make the effort - no one else managed to get within 20m of the escaping Fergus McFadden.
The more legitimate fear about McCaw lies not in the reliability of his engine but in the reliability of his hands.
As he evolves into a bruising, ball-running version of his former self, his ability to link, to offload and cling on to dodgy passes will be paramount.
Michael Jones, to whom McCaw will now endlessly be compared, made the transition from seven to six seamlessly because he had the natural ball skills to complement his destructive portfolio.
McCaw has never had those same soft skills - something that was apparent long before he endured a miserable night with his mitts in Christchurch. And while, unlike Jones, he'll continue to wear seven, that flaw in his handling needs to be fixed.
There are no doubts in Hansen's mind about any part of McCaw's offering. Hansen has seen his captain adjust, adapt and conquer all. If his handling needs improvement, Hansen will back McCaw to do it.
Nor is Hansen anxiously peering into the future, trying to gauge how much longer the skipper can hold his place as the world's premier openside. There is no specific date when the All Blacks want an answer in regard to how long the captain intends to hang around.
McCaw is contracted until 2015 and there is no succession plan - only a notion that next year they will need to have a clearer picture. "My understanding is that he has a sabbatical in his contract and if he feels he needs a break, I am sure he will take that," says Hansen.
"We will manage him the best we can to get the best rugby out of him. We will do that together. Each year will be its own year and we will see how he's feeling, how he's travelling.
"We will start planning [for 2015] a bit later on. Maybe not this year but by the end of next year you might look at a few things.
"Sam Cane, just by the nature of loose forward play, will get plenty of game time anyway. We have got Daniel Carter who has played a lot of rugby and your next logical leader would be Kieran Read, probably.
"He's getting a lot of leadership at the Crusaders and he has a lot of responsibility with the All Blacks. The next progression is that Richie either retires or its time to change the captain - but neither of those things at this stage are in my mind."