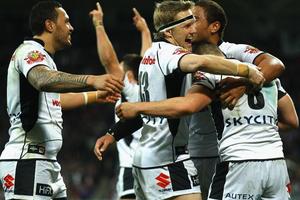 I was asked this week if I thought the Warriors could be given a pass mark at this stage of the season.
Before I could answer, I was given a salvo of bias stating that the team has improved under new coach Brian McClennan and he is building a new culture; they are more consistent.
With that information expressed, I felt the questioner wanted me to mirror his personal view. Unfortunately I could not and, given the Warriors' position on the table and their inconsistencies, I can only fail them.
Ninth going into this round with less wins than losses and a minus points percentage automatically states failure.
This team has displayed passages of play which would have them in the top four if they could maintain consistency.
Their inconsistency is the only regular aspect and I feel not too many people would disagree.
Despite their ability across the park, they flounder in the art of ruthlessness.
This does not mean I seek for them to be callous or brutal towards their opponents with an objective to injure, but to be ruthless in their efforts to do what is necessary to win while creating a closeknit attachment to each other.
In today's environment, I feel we try too hard to create this bond by having a huddle (I call it cuddle) with arms around each other for everything.
We see on the parks every week either at training or on match day; teams huddle before they go out on to the field, again when they arrive at centre field.
If there is a haka or national anthem to be performed, we have another cuddle before kickoff, then another after the game - irrespective of winning or losing.
This public display is a self-generated, emotive response to invoke a sense of togetherness to hopefully assist in winning the game.
I may be old school but this bond is formed after you've gone to 'battle' with your mates and persevered through the good and hard times together.
This means battling and demanding the best out of each other continually to a point when you know that when it is time to battle, your mate is not going to let you down and will never give up.
Can any individual look another team-mate in the eye and know 100 per cent he will not give up? If he can truly do so, he has no fear of the ability of his mate doing his job; he will not need to cover any shortcomings.
It is rare to find it in all teams as very few have such a bond; the NRL has two or three teams because of the club culture. It's clear the Melbourne Storm are one of them.
The Warriors have a way to go before they can claim to be one of these teams; they have shown too often this season alone that work needs to be done in lasting the distance.