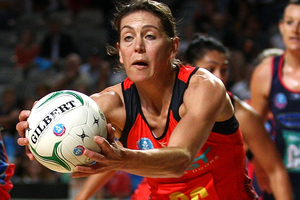 Waikato-Bay of Plenty Magic have jumped to the top of the transtasman netball league, topping the previous league-leading Adelaide Thunderbirds from top spot with a 17-goal thrashing today few predicted.
The Thunderbirds held top spot on goal difference going into the key round 13 matchup but were hammered at Tauranga's TECT Arena by a rampant Magic outfit who grabbed a handy 15-11 lead at quarter time and rammed home the advantage, crusing to a 59-42 victory in front of a sellout 3000-strong crowd.
It was a record-equalling eighth win in a row and momentarily puts the Magic in top spot from the Thunderbirds, Melbourne Vixens and Northern Mystics on goal percentage, although they are almost certain to be overhauled by the end of the weekend.
But after four losses blighted the start of their campaign, coach Noeline Taurua was smiling after another win virtually sealed their participation in the playoffs ahead of next weekend's clash with the Queensland Firebirds in Hamilton.
The Magic were irrepressible, exerting huge pressure through midcourt maestro Laura Langman, with transplanted South Australian Khao Watts also a dominant feature feeding shooters Irene van Dyk, who turned 40 this week, and the fast-improving Julianna Naoupu.
Van Dyk hit 41 from 42 attempts and Naoupu 18 from 23, with both likely to know they were in a contest as Thunderbirds defenders Sharni Layton and Rebecca Bulley threw everything but the goalpost at the pair with Adelaide's distinctive tight man-on-man marking.
The Magic grabbed a 15-11 buffer at quarter time, turned it into a 27-21 halftime lead and ran away with it as the Thunderbirds, coming off a short week following their 26-goal win over the NSW Swifts last weekend, wilted quickly.
Casey Williams and Leana de Bruin were feisty in the defensive circle, containing former Jamaican international Carla Borrego expertly, despite Williams struggling with an injury to her left foot, adding to the right ankle issues she's been nursing all season.
Adelaide had injury issues of their own, with international centre Natalie von Bertouch getting treatment in the third quarter for a dislocated finger and not returning after the break, with Magic up 39-25.
The Magic took out the quarter 18 goals to seven and, even though the Thunderbirds reeled off three-straight goals to start the fourth quarter, they were shut out of the game.
For more articles from this region, go to Bay of Plenty Times