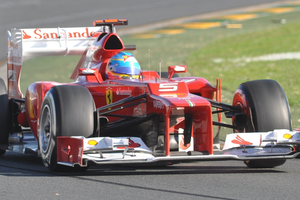 Poor start to season had Italian team worried but drivers are confident car has improved.
After a poor start to the year, Ferrari believe their recent form suggests they can win this weekend's European Grand Prix in Valencia, Spain, and reignite their bid for world championship glory in the process.
Malaysian Grand Prix winner Fernando Alonso narrowly lost to Lewis Hamilton of McLaren in Montreal two weeks ago, but the 30-year-old Ferrari driver has been in the midst of the action in recent races and lies second in the drivers' standings, just two points behind the Englishman.
His Ferrari teammate Felipe Massa has also shown improved pace in recent races and wound up sixth at the Gilles Villeneuve circuit despite spinning his car during the race.
Ferrari chief designer Nikolas Tombazis said recent performances have boosted the team and now believes they are in a position to start winning races.
"Rightly or wrongly there is an expectation that, as Ferrari, we must be winning every race and always be competitive," said Tombazis.
"At the start of the season we were in an uncompetitive situation, which was a big shock for me personally and for my colleagues.
"It has been a hard few months, but we put our heads down and tackled the problem calmly and I think the last few races have been a morale boost for all of us: it has made us believe we can get the job done."
Massa, who has shown significant improvement in the last two races, admitted he was feeling a lot more comfortable with the balance of his car after the team altered its setup to suit his driving style.
"Every driver has his own style, the way he turns the steering wheel or uses the throttle pedal, and if you don't feel comfortable with something then it definitely doesn't help," said Massa.
"When something is not working for you, you move away from the right direction and lose performance, as you are not operating at 100 per cent yourself.
"I'm much happier, because I can drive the F2012 much more in the way I like now.
"This means I am much more pleased with my driving, and with the balance of the car and the pace I can run at."
Massa is currently 14th in the drivers' standings with 11 points, while the Maranello-based team are fourth in the constructor's championship with 97 points.
Jenson Button is hoping to put an end to his run of disastrous results and reignite his world title challenge with a strong performance this weekend.
Through a combination of mechanical and technical problems with his car and some below par qualifying performances, the 32-year-old McLaren driver has only scored two points in the last four races, and brought home just 20 points since his victory in Melbourne at the start of the season.
In spite of this, the 2009 champion is hopeful that a new car setup will help him turn a corner and get back to winning ways.
"Hopefully straight away we will have a good feeling," he said. "I did a lot of laps in the simulator with the setup that we are going to start with.
"So I don't feel it is going to be a massive surprise to me, and to be fair a lot of it is quite similar to what we had at the start of the season - I won't be shocked in any way with the set-up, so we should get on top of it fairly quickly."
Button suggested that a decision to modify his car after the Bahrain Grand Prix may have been wrong.
-AAP