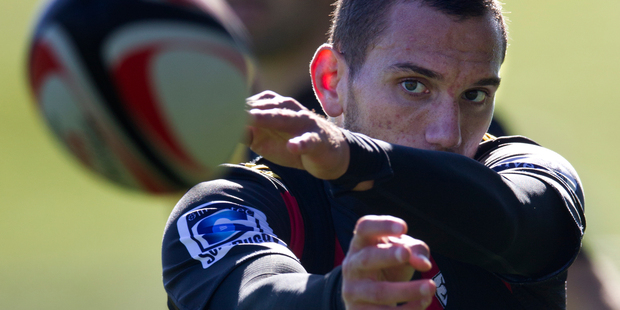 The All Blacks' fortune is Aaron Cruden and Beauden Barrett.
To replace quality with quality is the aim of every international coach and the envy of many.
When Daniel Carter felt his hamstring strain this week, there was no hesitation, no nonsense about waiting to see if he could cope tonight in Hamilton.
Cruden would start at first five-eighths in his 11th test on his home patch at Waikato Stadium with backup from 21-year-old rookie Barrett.
In the past 25 years the All Blacks have been blessed with choices such as the Grant Fox/Frano Botica/Walter Little group, Andrew Mehrtens/Carlos Spencer or Simon Culhane and now the latest triumvirate.
Cruden is a hugely changed player from the jittery young man who was pitched into his first start against the Wallabies in 2010 after several appearances from the bench.
He was nervous, and he was in the headlines because of his youth, questions about his ability to replace Carter and his fight with testicular cancer.
He remains "deputy to Dan" but the gap is closing. There is a growing security about Cruden's work, his kicking has improved along with his choice of plays, sense of timing and match management.
He brings a different array of threats for Ireland.
"I think the move up north has helped me get stuck in my routine and my way," he said.
"I will be out there trying to stake my claim and keep Dan on his toes and push to hopefully get another starting spot."
In 2010, Cruden might have uttered the same words without any conviction. Now he believes he is a test five-eighths.
The transition has been boosted with his move to the Chiefs and involvement with the sharp rugby brains of coaches Dave Rennie and Wayne Smith.
Cruden is enjoying his footie, he is relaxed and playing his natural game. He is in constant conversation with the staff about life and rugby and thriving on the leadership role he has been given. "I have matured a lot over the last couple of years," he said.
"When I first came in I was really nervous. I changed a lot of my techniques and routines in the way I approached things because I did not want to not note anything down or miss things and then let the team down."
That clogged up Cruden's play.
Now he is far more relaxed.
He has stuck with the bulk of the routines that have worked for him in the past couple of years with Manawatu, the Chiefs or All Blacks.
He has scaled back his goal-kicking practice and that has worked.
For a while he kicked the lacquer off the balls every day as he tinkered with his setup.
That seemed to make things worse so this season he decided to relax and settle on a technique "and it seems to be going through the sticks which is great".
Switching to the All Blacks means some variation but they use similar ideas to the Chiefs so Cruden feels comfortable.
He was nervous when he joined his new franchise because he wanted to be accepted by his new coaches, teammates and supporters.
Rennie, his mentor, helped greatly.
"He has got an aura, he makes you feel at ease and is always chatting about life and rugby ideas.
"I just think he has a great rugby brain and he and Smithy together, it's hard to beat," Cruden said.
His playing partnership with Sonny Bill Williams is just as fulfilling and uncomplicated.
"You just give him the ball and you are going to get good go-forward," Cruden said.
"He has that outstanding offload which can come out of nowhere. I think we have built a combo throughout the Super 15 season and hopefully we can show our wares again this test."
Cruden has grown as a rugby talent with Williams, he has tracked him all year and found plays he's never seen before.
"You pick up subtleties. It's great for me - if nothing's on I can throw it to the big fella and then get alongside him to get an offload or he'll set up for the next phase," Cruden said.
Ireland had created a strong test series. They played with great passion, heart and defence where they got off the line so quickly.
The All Blacks had to counteract that. They might also need Cruden to deliver a Carter dropped goal or two.
He couldn't remember trying one at Waikato Stadium, but who knows tonight?