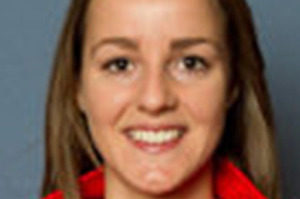 Wanganui runner van Dalen shaves 6s off personal best and looks set to make her mark at London Games.
Lucy van Dalen's family knew she was a quality runner. So did her old Wanganui Collegiate coach and president of Athletics New Zealand, Alex McNab.
Just as well, because the vast majority of the country was in the dark until she bettered the Olympic "A" 1500m qualifying standard in San Diego this week.
Pending a rubber stamp from the NZOC, that should ensure the silver fern makes an appearance in the women's 1500m after Nikki Hamblin withdrew from contention with a recurrence of an Achilles injury.
Van Dalen's time of 4m 5.76s has seen her close to within a second of Hamblin's New Zealand record - 4m 4.82s, set in Spain last year - although 27 other athletes have posted faster 1500m times this year.
Last weekend, van Dalen tore 3.5s off her personal best at a meet in New Jersey. Less than a week later she ripped another 2.3s off that. On the face of it, carving close to 6s off your PB in less than a week seems remarkable but van Dalen, speaking from New York, said it was all part of a cunning plan.
"The way I've trained and prepared with my coach [former Ireland Olympian Andy Ronan] we knew I should be running the 1500 in sub-4m 08s," van Dalen said.
"It's just I haven't really had much of a chance to do that because NCAA races tend to be really tactical. These last two races were paced and that makes a huge difference."
Heading to San Diego, van Dalen thought she had a sub-4m 07s time in her, so was thrilled to better that goal by more than a second.
"I've just been on cloud nine," she said. "I haven't slept for two days, I've just been so excited."
That improvement graph will start to plateau, but it demonstrates potential that must be exciting for selectors. There were some raised eyebrows when Athletics New Zealand officials mentioned this week that she was a possible contender for a spot in the Olympic team, not so much because of doubts over her ability, but because outside the small posse of athletics enthusiasts, her name sparked little recognition.
Wanganui-raised, van Dalen and her twin sister Holly - older by 14 minutes and another accomplished athlete - have been based at Stony Brook University, a small college on New York's Long Island, for the past four years.
"We only wanted to give it a year because we loved living in New Zealand," van Dalen said.
But then life took over. Van Dalen, 23, has carved out a name for herself in the collegiate ranks.
She was recently named America East Woman of the Year, an honour that recognises the AE conference's female student-athlete who has best distinguished herself in academic achievement, athletic excellence, service and leadership. Van Dalen became Stony Brook's first national champion after winning the mile at the NCAA Indoor Track and Field Championships and has completed a masters degree in social sciences.
Van Dalen told the Herald that she is looking to return to either New Zealand or Australia post-Olympics and wants to work in the field of social justice.
That's for the future, at the moment she's just content to focus on London and lap up the attention.
"I've just been speaking to my family and they just think it's hilarious.
"They've been bombarded - in a nice way - by calls from friends and well wishers."