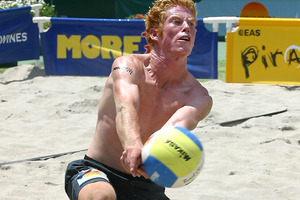 The Olympic dream of New Zealand's beach volleyball team is over after their shock first round exit from the Continental Cup Asia zone final in China today.
New Zealand were bundled out in their opening tie against Kazakhstan, with Tauranga siblings Sam and Ben O'Dea getting the Kiwis' sole win as the team went down 3-1 in the coastal city of Fuzhou.
New Zealand were expected to feature in the 16-nation qualifier, with Kirk Pitman and Jason Lochhead regulars on the world tour for eight seasons and taking an Olympic qualification ranking of 20 into the tournament.
New Zealand finished second to Australia at their Asia-Pacific Olympic qualifier at Mt Maunganui in February to qualify for the tournament, where only one spot for London was available but a second or third place would have been enough to reach a second-chance tournament in Sardinia.
But the cut-throat single elimination format meant one slip-up was a killer, and the tie got off to the worst possible start when Pitman and Lochhead lost their opening match 2-1 to Dmitriy Yakovlev and Alexey Kuleshov.
The O'Deas grabbed a lifeline when they downed world No 22 combination Alexandr Dyachenko and Alexey Sidorenko, but Kazakhstan wrestled back the initiative with another victory over Pitman and Lochhead.
That left the O'Deas needing to win to send the tie into a sudden-death golden set. They fought hard but went down in an hour-long marathon to Yakovlev and Kuleshov 23-25 21-17 16-14.
The New Zealand women weren't expected to feature and didn't, losing 3-0 to Vietnam.
New Zealand men's beach volleyball high performance manager Mike Dudson spoke with the Kiwis soon after the loss and said they were predictably devastated.
"Gutted is about the only word really. It was one of those days - you draw a good team who win some good points down the stretch."
Once New Zealand finished second to Australia at Mt Maunganui in February they knew they'd missed out on one of the coveted 1-5 seeding spots in China and the opportunity to play one of the minnows.
"We still had to win every match to qualify so weren't concerned at all at drawing Kazakhstan," Dudson said. "It made it more difficult than it otherwise could have been, and I'm sure both teams would have liked a chance to get their feet wet against a Samoa or Sri Lanka, but it wasn't the case."
Dudson said Pitman and Lochhead would finish the last four tournaments on the world tour, starting in Switzerland next week, although he didn't want to speculate on the pair's future together beyond this year.
"It's too early right now to say if they'll carry on and probably not the time to be making decisions like that, although they're young enough."
Results from today's first round of the Continental Cup Asia zone beach volleyball tournament in China
Men:
Kazakhstan 3 bt New Zealand 1: Dmitriy Yakovlev-Alexey Kuleshov (KAZ) bt Kirk Pitman-Jason Lochhead (NZ) 1-2 (19-21, 21-17, 13-15); Alexandr Dyachenko-Alexey Sidorenko (KAZ) lost to Ben O'Dea-Sam O'Dea (NZ) 2-0 (21-15, 21-17); Dyachenko-Sidorenko (KAZ) bt Pitman-Lochhead (NZ) 1-2 (19-21, 21-18, 13-15); Yakovlev-Kuleshov (KAZ) bt O'Dea-O'Dea (NZ) 1-2 (25-23, 17-21, 14-16).
Women:
Vietnam 3 bt New Zealand 0: Hong Phan Thi Cam-Thi Tiep Nguyen (Viet) bt Micah Brown-Julia Brown (NZ) 2-0 (21-16, 21-16), Thi Thu Ha Phan-Do Hong Loan Huynh (Viet) bt Alice Bain-Melissa Ruru (NZ) 2-0 (21-14, 21-14), Phan Thi Cam-Tiep Nguyen (Viet) bt Bain-Ruru 2-0 (21-18, 21-14), Phan-Huynh v Brown-Tilley not played.
For more articles from this region, go to Bay of Plenty Times