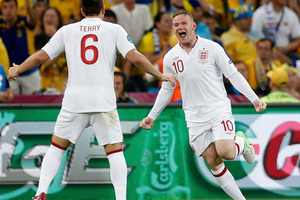 It's fashionable to rubbish the England football team. If you like football and you're not English (or at least half-English like me), you're likely a fully paid up member of the Anyone But England Supporters Club.
England's squad is oft derided as over-rated, the English media accused of over-hyping the team's chances and the Three Lions supporters are derided as arrogant and delusional. Well maybe all of the above are true. In fact they most certainly are. But perhaps this year is England's year.
The Steven Gerrard-led side have already navigated their way through a fairly tough Group D in the European Championship - finishing top ahead of the unpredictable France, the plucky Swedes and host-nation Ukraine.
In their opening match they squeezed out an ugly draw against the French, and then followed that up with an inspired come-from-behind win against a determined Sweden side, bouncing back from a torrid beginning of the second half with brilliant goals from Theo Walcott and Danny Welbeck.
And in their final group stage they battled past a fired-up Ukraine, who were urged on by a passionate home crowd. Sure, they were on the right side of a dodgy goal line call, but they were deserved winners, and had Wayne Rooney's radar been working could have won by a decent margin.
So England have no reason not back themselves against an Italian side who have looked steady but are yet to really fire in the tournament. The impending quarterfinal match is forecast to be a defensive affair with each side looking to score on the counter.
The English will need to contain Danielle de Rossi (you know, the one who dived to win a penalty against the All Whites!) and fellow midfielder Andrea Pirlo, who have both been running the show for the Azzurri. England will hope to exploit the opportunity presented by the loss of Juventus defender Giorgio Chiellini, who is suffering a back injury.
And England have reportedly been practicing for penalties, should the game finish level.
Under manager Roy Hodgson the team appear more unified, and this time around the prima donnas and WAGs are nowhere to be seen. The team is unbeaten in his short tenure and have shown a resolve at the Euros to battle for wins that has been lacking at previous tournaments.
The English side is built on defence, with Chelsea enforcer (among other things) John Terry accompanied by club teammate Ashley Cole, Liverpool's Glen Johnson, and Jolean Lescott, who has even got his name on the score sheet. And behind them stands Manchester City's Joe Hart, who has made some important saves in his three matches - with 14 saves in total. Compared to many of the backlines in the competition England's stacks up nicely.
England's midfield is a nice balance of proven veterans and exciting youngsters. In 32-year-old Gerrard England have a captain who has led by example. Stevie G has been on fire, setting up three of England's five goals, making key tackles, blocking shots, and winning the ball around the park.
There is no lack of talent around the Liverpool midfielder either, with the likes of Walcott, James Milner, Scott Parker, Alex Oxlade-Chamberlain and Jordan Henderson getting game time during the group stage. Walcott has already netted a goal, and Parker appears to be gelling well with his playmaking captain.
Critics have pointed to weaknesses up front, but these are not as serious as some would like to think. With Rooney out for the first two games, Hodgson used Ashley Young and Danny Welbeck against France, and gave Carroll the nod alongside Young in the Sweden game. Carroll and Welbeck have taken two shots each and both have netted a goal - not a bad conversion rate at all.
Rooney was back for the Ukraine match and although he was sketchy in front of goal, he did nod in the goal that inevitably separated the sides. If Rooney can find the eye for goal he has for Manchester United, and he gets decent service from the Gerrard and Co., England will be a force to be reckoned with.
For a change, the expectations for England were low prior to Euro 2012, and remain low despite seven points and the top spot in their group. In All White-esque fashion, their draw against France was greeted in some quarters of the media as though it were a victory, while following the Ukraine win BBC Sport reassured followers in a tweet that the side's progression in the tournament was not a dream.
But perhaps it is time for the English to dare to dream.
Sure the Germans are red hot and will only get better, and the World Champion Spanish have so much quality the brilliant Cesc Fabregas often warms the bench, but the English have luck, a bit of skill, um, some passionate fans, Steven Gerrard, Wayne Rooney and, ah, let's say fate on their side. Surely that's enough this time. Surely. Come on England.