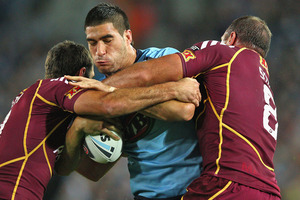 Justis Kamu looks at the standout issues in the NRL from the past week.
1. Origin divides Kiwis too
First it was Karmichael Hunt, James Tamou and now it looks likely that Sam Kasiano is to follow suit and select 'Origin' over a Kiwis jumper. The match between Queensland and New South Wales has morphed into a cultural phenomenon for league followers in Australia and New Zealand.
Despite not involving any New Zealanders, Kiwis on this side of the Tasman (in true Origin spirit) are splitting friendships, homes and even the workplace for three games to support their adopted state. This is where the problem lies - we are actively participating in the Origin series.

Kiwis are heading to the local pub with mates or watching at home while kitted out in QLD and NSW colours. For die-hard fans it means flying across the ditch to support their team. This is not an anomaly; it's a way of life in East, South and West Auckland as well as Rugby League communities around New Zealand.
The emphasis placed on the series by Aussies and now Kiwis is not only diminishing the status of international rugby league but more importantly it's hurting the prestige of wearing the black jersey.
Years ago Kiwis knew their place, watched from the sidelines and marvelled at the sporting theatre between Australia's finest footballers. However the migration of thousands of Kiwi families (many who love the 13-man code) to our closest neighbour is threatening our national side. Caught up in the relocation to 'OZ' are thousands of Origin loving Kiwi kids.
In Tamou and Kasiano they have a path to follow to fulfil a dream once thought of as impossible.
Ironically, a dream that started in New Zealand.
2. Warriors leadership needed in the clutch
The 18-19 loss against the Sharks was most disheartening for the fact that there was a strong lack of leadership in the last few minutes to set up for a field goal.
Arguably the Warriors had their chances with youngsters Konrad Hurrell and Omar Slaimankel making two costly errors that would bite them in the backside. It would be harsh to point the blame on the young inexperienced pair, ultimately it falls on Shaun Johnson and James Maloney to steer the set towards the posts. Yet rather than set up for the fieldgoal, the fifth tackle ends up in the right-hand corner next to the white flag.
As the shot-callers of the side, coaches and teammates place the responsibility on their shoulders to engineer plays in these clutch moments. With just nine games left in their season, and two wins separating the top eight from the Warriors in ninth. Tactical nous and the ability to perform well in pivotal situations will be essential to the Auckland club's fortunes.
Johnson and Maloney will have to wait till round 17 to redeem themselves and show they have that innate game-winning gift against the Cowboys at Mt Smart Stadium. In the opposite direction Jonathan Thurston will come to town. A man who definitely knows a thing or two about winning under extreme pressure.
3. Jennings back for grudge match
It was bound to happen after his excellent Origin form with Mick Jennings back in the Panthers lineup to face the Eels this weekend. Although his club form has been shaky, Jennings display in NSW colours (and the Panthers loss to the Titans) see's the homegrown talent back in the mix.
Ivan Cleary and Jennings have had a rocky start to their relationship but for arguably the club's most talented player he needs to fire this weekend if the Panthers are to take anything out of this season. Both sides are out of playoff contention but expect to see plenty of fireworks as they look to grab the two points in the bottom of the table clash.
The Panthers have 230 points for and 333 points against, while the Eels have fared worse (yes it's possible) with 214 points for and 368 points against. From those stats, defensive prowess isn't a strong-suit of either side. We should see plenty of open footy with both teams desperate for a W to avoid the dreaded wooden spoon.
4. Bright weekend ahead
Don't be alarmed if you see your favourite team run out in pink this weekend. Seven NRL teams will mark the sixth annual Women in League round by wearing a pink version of their playing strip.
Seven clubs including the Cowboys, Panthers and Sea Eagles will don a fluorescent jersey to celebrate the role of women in league and to raise awareness for breast cancer nurses. Pink rugby balls will also be in play as well as pink socks for referees and a few players will rock pink boots in support of the cause.
The launch of the WIL round kicked off yesterday with Parramatta Eels' Luke Burt winning the 'favourite son' award for being a role model to younger players and his off-field characteristics reflecting the true values of the Rugby League community. Burt, beat an impressive field for the 2012 award which included the Warriors' very own Manu Vatuvei. Congratulations to Manu for his nomination and this year's winner Luke Burt.
5. Your comments
@ Pat Rowley - Fish would be a waste of a spot on the bench/waste of an interchange. It's not like he's a Fien/utility type player he's (at this stage) a specialist fullback.
The Warriors could be more imaginative and creative than using four forwards off the bench,think K Hunt or M Bowen off the interchange for QLD.
@ Phantom Warrior - Inu had a raw deal at the Warriors, who really needed him this year but refused to use him in favour of youngsters who are learning the game - go figure! ...Bluey has failed to impress me thus far, and appears to have undone a lot of Ivan Cleary's fine work over many years.
So far Inu is doing brilliantly at the Bulldogs. As for Bluey a top-eight playoffs berth is a minimum after last year's GF appearance.
@ Tezza on the sidelines -Haha, no Tamau in the TOW? You are joking right?
J Tamou played well but T Grant and A Woods were key factors in wins against Sea Eagles and Cowboys respectively.
6. Team of the Week
1. Fullback - Greg Inglis (Rabbitohs)
2. Wing - Sam Perrett (Roosters)
3. Centre - Kane Linnet (Cowboys)
4. Centre - Josh Morris (Bulldogs)
5. Wing - David Mead (Titans)
6. Five-eighth - Josh Reynolds (Bulldogs)
7. Halfback - Jeff Robson (Sharks)
8. Prop - Bryce Gibbs (Sharks)
9. Hooker - Michael Ennis (Bulldogs)
10. Prop - Ben Ross (Sharks)
11. Secondrow- Brenton Lawrence (Titans)
12. Secondrow - David Taylor (Rabbitohs)
13. Lock - Frank Paul Nuuausala (Roosters)
Coach: Brian Smith (Roosters)