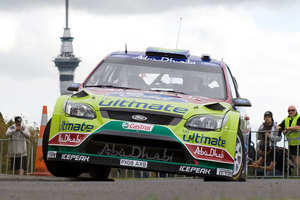 Finn Jari-Matti Latvala feels he needs to win every rally for the rest of the year to have the chance to win the WRC championships after a disrupted season and he will take that attitude into this week's Rally New Zealand.
He made the perfect start, finishing first in this morning's qualifying near Helensville and, with it, earning the advantage of picking his running position for tomorrow's important first day around Raglan which covers more than half the total distance.
Ford's Latvala edged fellow Finn Mikko Hirvonen (Citroen) by just 0.40 seconds, finishing the 4.86km course in 2 minutes 31.8 seconds. Norway's Petter Solberg in a Ford was third with reigning champion and current points leader Sebastien Loeb of France in fourth in his Citroen.
New Zealand's Hayden Paddon topped qualifying in his Skoda Fabia in the second tier Super 2000, finishing more than a second ahead of Saudi Arabia's Yazeed Al-Rajhi in a Ford Fiesta in their shakedown run in Kaukapapa, north of Auckland.
Most are expecting eight-time WRC champion Loeb to win on Kiwi soil, but he's done that only twice in seven attempts in New Zealand.
Five-time winner Marcus Gronholm was his nemesis in the early days and most recently when the event was held last in 2010, it was Latvala who took the top spot. As the defending champion, Latvala is keen to cut into Loeb's healthy championship lead and the roads appear to suit his fast and slightly aggressive style.
Loeb leads the point's table on 119 points from Hirvonen on 89 points with Latvala back in fifth on 45 points. The Finn's had an up and down season with more downs than ups in 2012.
The No 1 Ford driver scored no points at the opening round in Monte Carlo, won in Sweden, retired in Mexico, missed Argentina due to injury and finally came good in Greece.
"I will be driving flat out for a win,'' Latvala said. "Given the gap between myself and the top of the championship, I have to try to win every rally, both for myself and for the team's challenge for the manufacturers' title.
"The collarbone has healed very well,'' Latvala said. "I had surgery in Helsinki immediately after the accident and so the recovery process began immediately.
"Missing Rally Argentina was disappointing, but it was the correct decision. It allowed more time for the collarbone to heal, and at the last rally in Greece, which is the roughest round of the championship, I drove without pain.''
At one of the most physically demanding rallies in the championship, Latvala was quickly on the pace over the opening stages in Greece and battled with Loeb to the end before just missing out on second.
After such a confidence building drive, Latvala arrives in New Zealand as the defending round champion and is keen to get back on the Kiwi roads again.
"I'm confident I have the pace and I'm confident my Ford Fiesta RS WRC has the pace, so I'm really looking forward to a great battle over some of the best roads in the championship.
"I have no worries about the car. It has led every round of the WRC this season in the hands of either myself, or Petter [Solberg]. We know it has the pace to win, so it's down to the drivers to make it happen.''
Latvala knows he can win in New Zealand and has the weapons to do so. However, there are a number of drivers standing in his way other than Loeb. His teammate Solberg is a former world champion (2003) and round winner in New Zealand (2004) and sits one place above Latvala in the title race.
Hirvonen will be another hurdle having joined Citroen this year and is desperate to get one over Loeb having played bridesmaid to the Frenchman three times. He's also yet to score a win on Kiwi soil.
WRC results:
Jari-Matti Latvala FIN/Miikka Anttila FIN, Ford Fiesta RS WRC, 2:31.86, 1; Mikko Hirvonen FIN/Jarmo Lehtinen FIN, Citroen DS3 WRC, 2:32.23, 2; Petter Solberg NOR/Chris Patterson GBR, Ford Fiesta RS WRC, 2:32.40, 3; Sebastien Loeb FRA/Daniel Elena MCO, Citroen DS3 WRC, 2:32.75, 4; Thierry Neuville BEL/Nicolas Gilsoul BEL, Citroen DS3 WRC, 2:32.95, 5; Ott Tanak EST/Kuldar Sikk EST, Ford Fiesta RS WRC, 2:33.13, 6; Daniel Sordo ESP/Carlos Del Barrio ESP, Mini John Cooper Works WRC, 2:33.23, 7; Jari Ketomaa FIN/Mika Stenberg FIN, Ford Fiesta RS WRC, 2:33.94, 8; Evgeny Novikov RUS/Denis Giraudet FRA, Ford Fiesta RS WRC, 2:34.18, 9; Manfred Stohl AUT/Ilka Minor AUT, Ford Fiesta RS WRC, 2:37.65, 10.
Shakedown results:
Paddon NZL/Kennard NZL, Skoda Fabia S2000, 3:12.7, 1; Al-Rajhi SAU/Orr Ford GBR, Fiesta S2000, 3:14.2, 2; Gilmour NZL/MacNeall NZL, Subaru Impreza WRX STi, 3:14.4, 3; Andersson SWE/Axelsson SWE, Proton Satria Neo S2000, 3:14.8, 4; McRae GBR/Hayes AUS, Proton Satria Neo S2000, 3:16.5, 5; Mason NZL/Mason NZL, Subaru Impreza WRX STi, 3:17.3, 6; Oleksowicz POL/Obrebowski POL, Ford Fiesta S2000, 3:21.9, 7; Kikireshko UKR/Cherepin UKR, Mitsubishi Lancer EVO IX, 3:22.4, 8; Gorban UKR/Nikolaiev UKR, Mitsubishi Lancer EVO IX, 3:24.3, 9; Karlsson SWE/Walfridsson SWE, Mitsubishi Lancer EVO X 3:24.4, 10.
- APNZ