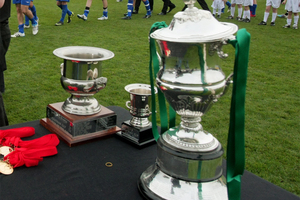 The Chatham Cup knockout football competition is one of New Zealand's longest running national sports events, having been contested annually since 1923. Tradition dictates that when your club is knocked out, you follow the fortunes of your victors - and in turn their conquerors - all the way to the final.
Join us on our own Cup odyssey this year, as we report on cup fortunes in a similar vein. We started with first-time entrant Hamilton's Clube Alegria in the qualification round, who were beaten 2-0 by Westlake Boys High. We then followed the schoolboys as they overcame Drury 4-1 in the first round, then Manurewa 7-2 in the second. We'll now keep following their path (or whoever beats them) through to the final on August 25-26.
Qualifiers: Clube Alegria - New kids face off against schoolboys
First round: Big school vs little club
Second round: Divided loyalties
*****
With just 32 teams remaining in this year's Chatham Cup, the men are starting to separate themselves from the boys. But not in the way you might think.
Last round Westlake Boys High School produced the shock result of the Cup, thrashing two-time winner and Northern Premier League men's side Manurewa 7-2 to advance to the third round.
Next up, on Sunday at 2pm, they face Birkenhead United - a team that sits top of Northern League Division One - in a keenly anticipated tie at Shepherds Park.
But with the competition now boiling down mainly to clubs who are serious contenders for winning the Cup the question remains: just how good is this Westlake team and how far can they go?
After cruising through qualification against non-league Clube Alegria and knocking four goals past Federation side Drury United, they put themselves on the footballing map by inflicting a season-record defeat on Manurewa.
Manurewa coach Shaun Devine said the schoolboys can beat anyone on their day and have the potential to go further in the Cup.
"They totally deserved their win on the day against us," said Devine.
"We never turned up to be honest and they exploited that. Some of the young boys that we have in their side really stood out and punished us."

"On their day I think they can beat anyone - as they showed they beat us comfortably, there were no excuses from us. If a sides not at their best they have some quality players and will punish you."
However the result didn't change his stance on schoolboy sides being allowed in the competition and maintained that players throughout the country should play school football on Wednesdays to free up the weekend for Club football.
"I'm proud of what they have done but I still think they need to get the best of both worlds really through their school and also their clubs."
Drury coach Kevin Snell echoed Devine's sentiments on the quality of Westlake's football and backed them to beat Birkenhead on Sunday.
"I can't see them not continuing if they keep playing the way they have in their last two games", Snell said.
"If I was sitting down with Birkenhead I would be saying to them, don't treat them like they are kids.
"These kids have talent, if you think you're going to take them easy, you might as well not turn up because they are going to take you apart. They may not have the physique but they have the skill."
Westlake conceded first against Manurewa but then went on to score the next seven goals in a match that manager Tony Buckingham said his side "dominated everywhere".
"We played really well that day," he said. "Devine's comments about us not being in the Chatham Cup spurred us on and was great motivation for us. It was one of those games where we had seven shots and seven went in."
A crowd of around 500 gathered at the Westlake Boys High to watch the clash and Buckingham said Manurewa brought "a heap of people with them" to make it quite a spectacle.
"One of the Manurewa fans in the after-match said it was the worst loss he has experienced in 40 years of following Manurewa.
"We're not cocky, we know there are the likes of Bay Olympic, Central etc who are at a different level, but we have answered our critics who say that schoolboys shouldn't be in the competition."
Buckingam said Cup Fever has caught on at Westlake and has become a major topic of conversation.
"Do we think we can go all the way? I don't think we're thinking like that, these boys don't think that way we're just taking it one game at a time, and are not planning that far ahead."
Westlake made it to this same stage of the competition last year and were 3-1 up with 20 minutes to go against Waitemata before falling to a late flurry of goals.
This time they are up against a very tough Birkenhead side who remain unbeaten in Division One after 14 games.
Birkenhead coach Paul Hobson believes his side can go all the way in the Cup and his happy with the draw.
"The last two years since I have been here we have been to the last sixteen of the competition, so we want to go further than that this year and I truthfully believe we have a team that can win it.
"We are not going to underestimate Westlake, but if we can't beat them then we don't deserve to be in the next round, simple as that."
Hobson's son went to Westlake and he (Paul Hobson) was unimpressed with the way the club v school conflict over player availability was dealt with.
"I don't like the way Westlake go around things with regards to school football. I think they bully kids into playing etc. School football should be on a Wednesday with club on the Saturday.
"I don't think bullying 14-15 year-old kids is best for them, they should be able to choose what they want. Schools don't want to back down but surely there's an easy solution."
Quite what that easy solution might be isn't clear - but this is exactly the sort of talk that so inspired Westlake against Manurewa.
On that front, Hobson was surprised by Westlake's effort against Manurewa and is aware of the talent the schoolboy side possesses.
"Their result last weekend made us a bit wary. I know one or two of the boys, and know they are going to be young and fit and the longer they're in the game the better they will get.
"There's only a few years difference from most of our team and their boys anyway."
The Sunday kick off (2pm) will allow people who play on Saturday to watch and Birkenhead are expecting a big crowd.
They should witness a decent contest. Sometimes the only difference between men and boys is the lessons they learn, and the goals they aim for.
Birkenhead United v Westlake Boys High
Sunday 21 June, 2pm
Shepherds Park, Beachhaven
Tracking the Chatham Cup:
Qualification: Clube Alegria 0 - Westlake 2
Round One: Drury United 1 - Westlake 4
Round Two: Westlake 7 - Manurewa 2