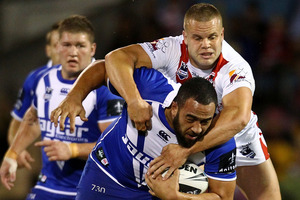 Bulldogs forward Sam Kasiano has given the clearest indication yet that he wants to play State of Origin for Queensland by telling his Canterbury teammates of his desire to don a Maroons jumper.
Speculation is mounting that the Auckland-born prop will be picked in the Queensland side for next month's decider in favour of Dave Taylor, who had a quiet performance in game two.
The 21-year-old has remained tight-lipped about whether he wants to play for the land of his birth or Queensland, where he moved to after finishing high school.
However, Bulldogs fullback and fellow Queensland Origin hopeful Ben Barba said Kasiano made his intentions clear when the pair recently spoke about a possible call-up.
"He wants to play for Queensland," Barba said.
"I've had a bit of a chat to him and he says he wants to play for us, so I'm hoping he does and hopefully one day he gets his chance.
"At the end of the day, it's up to him. It's his choice."
Barba also shared with Kasiano his experience as Queensland's 19th man and the tight-knit camp in the lead-up to game two in Sydney.
"Hopefully that gets through to him and he makes that choice," he said.
Barba, who is also chasing a Maroons jersey as a replacement for injured fullback Billy Slater, is confident in Kasiano's ability to step up to Origin level.
"For a big fella he carries himself pretty well," he said.
"He's got that effort and effort that you want to see in a big front-rower - especially as big as Sam."
Bulldogs coach Des Hasler said he didn't know if Kasiano would play for Queensland but joked that he was definitely "big enough" to do so.
"I'm sure if he gets that opportunity he'll relish it," Hasler said.
"For young blokes (Kasiano and Barba), they've got their feet pretty well-grounded so they won't get too carried away with it."
Despite being a New South Welshman, Bulldogs forward Aiden Tolman said it would be good for the game if players like Kasiano are allowed to compete in Origin.
"(New Zealand-born) James Tamou's playing for NSW, so it's the same situation as that," he said.
"At the moment, guys like (Tamou and Kasiano are) eligible for it so it's good for the game and probably improves NSW as well as Queensland.
"He's been playing great for us and I'm sure he'll put his hand up if the opportunity came about."
Both Kasiano and Barba will get to prove their worth in Sunday's top-of-the-table clash against Melbourne in Mackay.
It's the first time the North Queensland town has held an NRL fixture, with all 12,000 tickets already sold.