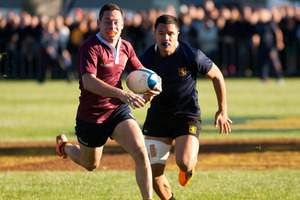 Any doubt about the place rugby plays in New Zealand is reflected in the growth of the game in secondary schools - the Auckland and North Harbour unions again buoyed by growing numbers in their competitions.
There are a healthy 223 teams (up by 11 on last winter) from 45 schools across the Auckland union's catchment area. While traditional rugby schools like AGS (20 teams) and Sacred Heart (19) lead the way, the union is just as encouraged by the emergence of new and developing schools including Kia Aroha, Sancta Maria and Elim Christian School.
North Harbour, too, have more teams this year than last with 94 teams, from 22 schools, now playing in regular competitions. Unlike Auckland and Counties Manukau schools who have teams playing mid-week league competitions, there is no league, apart from an end-of-season sevens tournament, played in North Harbour schools.
Girls' rugby is growing on both sides of the bridge with only WGHS and Carmel College not having a girl's team playing the North Harbour competition.
While there is an obvious split between the top and bottom sides - top side WBHS beat bottom-placed Glenfield 139-0 on Saturday - the union is keen to encourage the growth in the so-called lesser schools pointing out that Glenfield has not defaulted any games.
The union is also encouraged by the drop-off in red and yellow cards this winter. That figure is running at about 30 per cent of the same time last year.
The Auckland 1st XV championship continues to prosper with Saturday's much-anticipated clash between unbeaten St Kentigern and fourth-placed Sacred Heart being shown live on Sky Television - a week after the traditional battle between AGS and Kings was also shown live.
League
A final befitting the occasion marked the end of the Counties Manukau zone of the University Shield 1st XIII championship. In the end, Otahuhu College claimed the Dean Bell Shield but only after repulsing a determined Sir Edmund Hillary College 24-20.
This match was eagerly anticipated after both schools had gone through the pool rounds undefeated with Hillary clear leaders in their pool beating allcomers by big margins before struggling in their semifinal where they sneaked home 12-10 over Manurewa High.
Otahuhu College's pool round performances were similar but not quite as decisive before they shifted into top gear in their semifinal to thrash James Cook High 56-6.
Netball
After being held to a four-goal lead at the end of the first quarter, AGGS cleared out to beat Diocesan 40-18 in their second round clash in the premier competition and join three other schools unbeaten after two rounds.
The first quarter was tight going goal for goal before AGGS sneaked ahead in the late stages with a couple of turnovers to lead 11-7 at the break. The telling quarters were the second and third, with AGGS capitalising on lots of unforced passing errors from Diocesan throughout the court to go into halftime 20-11 ahead. They stretched that advantage to 28-12 after the third quarter and restricted Diocesan to six goals in the final quarter.
The AGGS shooting statistics were excellent at 89 per cent for goal-shoot Marcia Jerram and 90 per cent for Sydney Fraser at goal attack.
Rugby
The traditional clash between AGS and Kings - with live television coverage to boot - was another great advertisement for schoolboy rugby although for the Kings' supporters it was not the result they so desperately wanted.
The huge crowd at Kings were treated to another tense affair in perfect conditions as the home team closed to within three points in the second half before AGS pulled away to win 29-15 and retain their unbeaten start to the 1A season. As a bonus they took home the coveted Cooper/Greenbank Cup.
St Kentigern were given a fright before getting home 18-15 over a spirited Onehunga High, at the top of the table with perfect seven-from-seven records.
Kings are again at home this week with neighbours Otahuhu College looking to join Kings with two wins.
Otahuhu warmed up for the hop over the fence with the longer trip to play world champions KBHS who were also defending the Moascar Cup they won from Sacred Heart last season.
The home side completed a 32-3 victory.
Kelston are at home again this week but face a much greater challenge against AGS.
MAGS kept themselves within touch of the top four but only after a strong second half earned them the points with a 19-5 win on their trip to Tangaroa College.
MAGS are at home this week facing St Peters who travel after thumping bottom-placed Tamaki 39-11.
Running in six tries earned St Peters a bonus point win at the Cage.
St Peters were dominant from the outset of the free-flowing encounter.
Tamaki blindside flanker Michael Moa was their best player while St Peter's captain Paihere Timms was named player of the day.
Wing Shem-Kalvin Tatupu scored the bonus point try just after halftime.
North Harbour
Takapuna Grammar went into the match of the round seeking their third straight win against a desperate Northcote College.
Northcote needed a good result to remain in the 1A competition but in the end were no match for TGS who ran out 36-8 winners. In the other 1A fixtures, leaders WBHS thumped hapless Glenfield 139-0, Massey were too good for Mahurangi 51-6 and Rosmini put away Rangitoto 44-7.
Rangitoto and Northcote were tied on a points differential of minus 160 but Rangitoto beat Northcote 10-5 in their round one game which kept them in the 1A grade along with WBHS, Rosmini, Massey, TGS and Mahurangi. Northcote and Glenfield are relegated to 1B for the second round.
Waikato
After shutting out visiting Palmerston North BHS in the first half, Hamilton BHS cleared out for a comfortable win in their Super 8 clash.
After leading just 14-0 at halftime, the home side went on to win 40-17, scoring six tries, five of which were converted by fullback Te Raina Richard-Coxhead. Hamilton's first-five Josh O'Flaherty had a top game, reading play well, kicking astutely for territory, as well as scoring two tries.
St Pauls Collegiate had to work hard for their 14-7 home win over Hastings school Lindisfarne College.
On the local scene, Cambridge HS maintained their lead in division one following a 76-5 win against Tokoroa, with St Peters, 69-0 winners against Matamata, and St Johns 30-5 victors over Morrinsville, best placed to challenge the leader when the second round commences this weekend.
Soccer
The premier league is shaping up as one of the best in recent memory with no team unbeaten after six rounds and with the top five teams within five points of each other.
Sacred Heart continue to set the pace, beating AGS 3-1 away to inflict further pain on an Auckland Grammar team now 10 points out of the lead with just five points and only struggling Rangitoto below them.
In the game of the round MAGS, too, stumbled on their trip to Westlake BHS in a game which ended 2-2 after the visitors had gone 2-0 ahead. St Kentigern picked up their third win against TGS as away teams prospered, gaining points in three of four matches.
MAGS coach Kevin Fallon was lost for words after his team had lost control of the match and squandered the 2-0 lead.