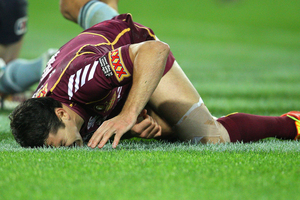 The door remains open for Billy Slater to make a remarkable Origin III appearance for Queensland - and NSW wouldn't have it any other way, according to ex-Blues captain Ben Elias.
Queensland chairman of selectors Des Morris on Monday confirmed the Maroons had not given up on Slater running out for the July 4 series decider in Brisbane despite the fullback last week being ruled out for at least a month with a knee injury.
And Elias welcomed the news, saying NSW would prefer Slater played Origin III so Queensland would have "no excuses" when their remarkable run of six series wins ended.
The man expected to replace Slater at fullback, Greg Inglis, was on Monday cleared of a serious elbow injury and even given the green light for South Sydney's Friday night NRL clash with Brisbane.
But Morris said Inglis still loomed as a centre option with selectors hoping Slater will play for the Maroons just three weeks after suffering the grade-three posterior cruciate ligament injury.
"Greg has not necessarily (been locked in for fullback). He does a good job for us in the centres," Morris told AAP.
"We haven't put a line through Origin III (for Slater).
"I don't know if Billy is ruled out. We will monitor that situation.
"We will know more at the end of this week.
"He is a great player but we have a few options at fullback if we have to go down that path - but we don't have to go down that path just yet so there is not much point talking about it."
On a good day for Queensland selectors, backrowers Corey Parker (shin gash) and Sam Thaiday (shoulder) ran strongly at Broncos training on Monday.
Elias kept his fingers crossed they will play - but for very different reasons than Queensland.
"I wish to God that they were fully fit because we want no excuses when we win - they are already starting to have their excuses already," he told AAP.
"We don't worry about those things, we just get on with the job."
However, Elias believed giving Slater until the last minute to play Origin III would hamper Queensland's preparation.
"He's a massive factor, psychologically and performance-wise - he's probably my favourite player in the NRL," he said.
"But you've got to let go, they've got to move on with it.
"He can't be fully fit by game three.
"We welcome them doing that but that won't give you the best preparation possible will it?"
Elias admitted he wasn't sure who he feared most as Queensland fullback - Slater or Inglis.
"From NSW's point of view I would want neither, they are both brilliant," he said.
"You replace the best player in the world with the second-best in Inglis.
"But Barba also deserves a go, he wouldn't let them down."
Elias also expected Queensland to retain David Taylor despite his disappointing series to date.
"They (Queensland) won't panic, they stay strong - that's the mentality that this mob have got," he said.
"He is one of the most damaging players in the game. He made some mistakes but that happens.
"If I had the chance to pick Taylor for NSW he would be one of our top picks in the forward pack.
"They won't drop him, no way."
- AAP