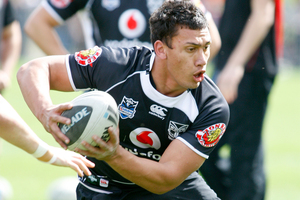 For Elijah Taylor, his strong conviction to succeed came from an eviction.
Before each game the Warriors back-rower writes a simple message on each arm. On the inside of the left wrist are a few words to remind him where he has come from; on the other side a few to remember what he has been through to get to the NRL.
Listening to Taylor's story it might not be rags to riches, but it is certainly straight from the school of hard knocks.
"My upbringing was a very humble beginning," says Taylor, who was born in the Taranaki town of Hawera and spent his formative years in Patea, of Poi E fame.
"We didn't really have much in the cupboards. Dad was always working and Mum wasn't around. There were some pretty dark days. I remember the car getting repossessed and things getting taken from the house and the power going out because we didn't pay the bills. Sometimes there was no food in the cupboards or the fridge."
Later the family moved to Herekino, a small settlement in the Far North, but life remained difficult.
"When I was 12 or 13, we got evicted," recalls Taylor. "We were staying in the car for a while. There were some rough days. That's why I think I am mature because I have understood what life is at an early age and that has built the desire to go hard in whatever I do."
"He is a real tough kid mentally and is very focussed with what he has to do to become better," says coach Brian McClennan. "He is right up there with any player I have seen when it comes to preparing himself."
In 2007 Taylor moved to Auckland, attending noted league school St Paul's College. He succeeded in both codes - he was captain and second five-eighth of the 1st XV - and was spotted by the Warriors at a schoolboy tournament.
While with the Junior Warriors he held down full-time jobs, first as a painter then a bricklayer.
"I've worked a real job and I know how hard it is," laughs Taylor. "After Sunday games in Australia, we would get home at 2am on Monday morning and then do a 9-to-5 the next day. The average week was a slog. I would leave home in the dark and get home in the dark."
There were funny moments, like when he was given a painting job on Broadway, one of the busiest shopping streets in Auckland.
"It was outside a shop in Newmarket," recalls Taylor, "and there I was with my ladder and my brush. It was pretty shameful, bro. I don't take anything for granted now."
He was an instant success with the Junior Warriors, captaining the side in 2009.
He was tipped to make his NRL bow the following year but tore his anterior cruciate ligament in a pre-season match.
"I was out with six months and it plays with your head," says Taylor. "You feel isolated and can't train with the team. I won't forget those days and I'm very grateful for where I am now.
He made an early comeback to appear (and score two tries) in the Toyota Cup Grand Final and the rest is history. Seventeen consecutive NRL appearances last year, a NRL Grand Final try and a Kiwis jersey.
"It's very hard to get a jersey at the Warriors," says Taylor. "There is so much depth and plenty of good juniors coming through just waiting for an opportunity. It is up to me to make sure they don't get it."
"Elijah has been great this year," says McClennan. "It was commonly known that he was Micheal Luck's apprentice but he has developed into a tradesman now and earned his stripes."
Stepping into Luck's boots, Taylor has averaged over 40 tackles a game and is a keen support runner. He has got a great engine, is the most effective Warrior at harassing opposition kickers and has helped to tidy up the defensive shortcomings on the left edge. He showed his versatility by playing dummy half last night.
Signed until the end of next season, Taylor is currently negotiating a new, presumably upgraded, deal. There would be no lack of suitors for the multi-talented back rower but Taylor wants to stay.
"Hopefully I'll make a decision soon," says Taylor. "I'd love to stay at the Warriors. It's an awesome club with a great environment.
"Hopefully I can stay here for a long time."