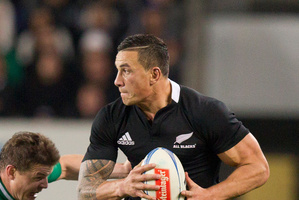 Sonny Bill Williams is always going to be dangerous. The midfield back has a range of skills an entire All Black backline of yesteryear would have been proud of.
His physique is imposing, his breadth of ability undeniable.
His issue has been understanding how those assets translate into a sport which he has only been involved in at the top level for five years.
In that time he has produced a collection of magic moments, an array of cameos and longer production pieces which startle and amaze the purists and fly-by spectators in equal measure. The offloads, the vision, the ability to improvise are all big chapters in his playbook.
He is an excitement machine and also a player with the ability to frustrate.
Williams had some of those issues at Eden Park, when he bashed into contact and coughed up possession.
It was a flashback to a few years ago when his careless control or rash offloads brought all sorts of comments and doubts whether he would nail his cross-code switch.
So when the second test went to Christchurch, we wondered how the All Blacks would use Williams.
Would they use him more as a decoy or would they ask him to take on the Irish defence again with his direct straight running to then set up quick ruck ball?
The initial answer was not long coming. Williams took the first All Black hit-up straight into contact.
It looked as though we were going to get more of the same with the intention of doing their duties far more precisely than they did at Eden Park.
Not long after, Williams shelled a pass cold - not a tough delivery, he just muffed it.
As the All Blacks battled through the rest of the opening half, Williams' touches on the ball diminished.
He roamed far and wide in defence, covering, watching and challenging.
On a couple of other occasions he carted the ball into multiple collisions. Once he made some metres but the double- and triple-teaming usually slowed him quickly.
He did recycle possession but like the rest of his team-mates he was living on minimal possession as Ireland competed with far more gusto and precision than they did a week ago.
A spell in the sheds at halftime no doubt brought a bollocking for everyone.
Especially when Steve Hansen promised his side would be far more productive after an extra week's training. Right from the restart, the All Blacks fizzed with Williams prominent.
Twice he offloaded in the tackle, got his hands around the corner and his team-mates surged on. From the second incision Aaron Smith scored his first try in test rugby, a touchdown for which Williams could claim an assist.
Not long after, he nailed the dangerous Rob Kearney and then showed him a left jab to remind him about taking on the All Black defenders.
Williams had shown his team-mates the way, he had given them the lead. Now it was a matter of whether they would follow.