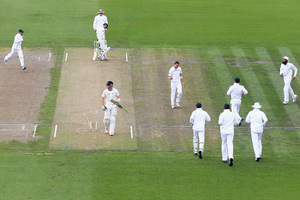 Hamilton's Seddon Park is in danger of being bypassed as a venue for next year's three-test England cricket series.
With the New Zealand side playing in South Africa over December and January, England is the only international side touring next summer.
Hamilton's boutique, purpose-built cricket ground with its lush, picnic-filled embankments was last omitted from the summer test schedule in 2006-07.
Dunedin, Wellington and Auckland are proposed as the three test venues. Northern Districts Cricket stands to miss out most, with Auckland's Eden Park looking to return to test status for the first time in seven years courtesy of greater ground capacity.
Eden Park recently rated fifth in The Cricketer magazine's list of worst test venues after a worldwide survey of broadcasters, journalists, photographers and fans.
Seddon Park was ranked 15th best, with Wellington's Basin Reserve 10th and Dunedin's University Oval 21st.
Using Eden Park as a test venue seems a short-term fix, especially after Friday's proposal by the super-city body, Regional Facilities Auckland. The body suggested North Harbour Stadium outer oval be used for test cricket. Why Eden Park's outer oval cannot be developed into such a facility (once it completes its transformation from Rugby World Cup carpark) is yet to be explained.
No final decision has been made for next summer but geographical spread is believed to drive the current thinking.
Seddon Park has recently been directed by New Zealand Cricket to improve some of its facilities, in particular dressing rooms. However, they are not alone on revamps. The Basin Reserve has poor outfield drainage and a reduced seating capacity, with the Museum Stand labelled an earthquake risk.
Gate revenue at tests goes to New Zealand Cricket but the NDCA stands to miss revenue from signs and hospitality. Hamilton would also miss a substantial investment after stumps when the Barmy Army hits town.
Granting a test to University Oval is seen as politically savvy. It keeps the South Island cricket fraternity onside. However, population estimates, courtesy of a Statistics New Zealand report from June 30, 2011, suggest two tests in the upper North Island might stand a better chance of bringing in the fans.
The South Island's population (Canterbury, Otago and part of Central Districts cricket) is estimated at 1.04 million people (24 per cent of New Zealanders). The upper North Island (Northern Districts and Auckland cricket) is home to 2.38 million people (54 per cent of New Zealanders).
League circles have major concerns about aspects of the Regional Facilities' proposal to align use of the Auckland region's three major stadiums - Eden Park, Mt Smart and North Harbour stadiums.
The Warriors have no formal arrangement with the Eden Park Trust Board over future games there, though the paper seems to assume that their big matches would be moved across town from Mt Smart Stadium.
Eden Park can certainly cater for a large crowd but the cost of taking an event there can be crippling. With security, traffic management and staffing requirements, it can cost over $100,000 just to open the stadium. The Warriors might look at other options, possibly taking a big game to Wellington or Dunedin.
Also, the appeal of owning a private suite or corporate box at Mt Smart will diminish if more games are transferred across town. There are 38 private suites at the stadium, which provide a crucial source of revenue for the Warriors and the stadium's owners, the council.
The proposal suggests a high performance centre at Mt Smart to host the Warriors and Auckland Rugby League but there are no details on funding.
It's mentioned such a centre could be used by the Northern Mystics but it is doubtful the netball side would want to move from their base at Trusts Stadium in Waitakere to a centre with no netball courts.