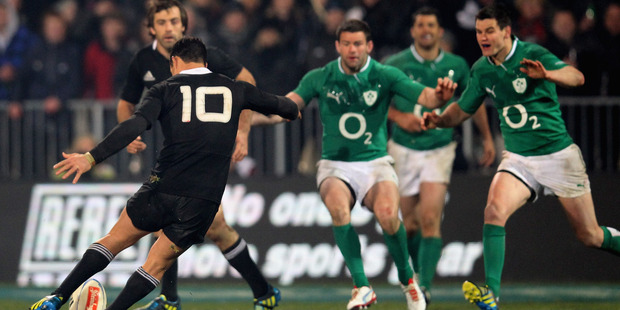 New Zealand 22
Ireland 19
They reckon the Irish are lucky. They're bloody well not. Has there been a crueller defeat in recent times? The men in green had the All Blacks on a plate - beaten up, shell-shocked, panicking and looking decidedly unlike world champions.
At 19-19 and with the All Blacks reduced to 14 men thanks to an act of lunacy by Israel Dagg, this game was Ireland's - and maybe would have been had Jonny Sexton not got underneath a long-range penalty, or if referee Nigel Owens had given a scrum penalty when it looked like the All Blacks had infringed.
But Ireland have a legacy of hard luck stories and this was another. They couldn't close out and to the credit of the All Blacks, they held their composure in the last three minutes to let Daniel Carter drop the winning goal at the second attempt.
It was a victory the All Blacks scarcely deserved. Having whacked Ireland with a big stick last week, the All Blacks encountered a more dangerous and lively foe last night - one that pushed them hard and derailed any growing sense of superiority.
This was proper test match football: rugby with bite, a passionate crowd and two sides surprisingly evenly matched.
Ireland were good. They were strong in all the areas where they were weak in the first test and they grew in confidence. Their scrum, an eggshell in Auckland, won penalties in Christchurch and there was some attacking venom left in Brian O'Driscoll.
The All Blacks' performance dipped the other way. The control and precision that was the hallmark of opening night was never really there. They couldn't play with the same tempo; couldn't feed off Ireland's mistakes, because they didn't make many; and for long periods couldn't find their rhythm or win the gainline battle.
The mistakes added up. The scrum creaked some more and the injuries mounted for the All Blacks. Uncertain faces looked around for leadership and didn't always get it. Ali Williams, there to use his experience, conceded a penalty which would bring the scores level and then mouthed off to bring it forward 10 metres.
His presence merely highlighted how much the All Blacks missed Kieran Read. Crusaders coach Todd Blackadder claimed earlier this year that Read was the best player on the planet. After last night, it would be hard to doubt that.
Whenever the All Blacks needed a runner to smash it up, Read was on hand. Whenever they needed a big tackle, Read would make it.
He didn't return for the second half - suffering a head knock just as he did last week - and there will be a level of concern, not so much about whether he will be fit for next week, but whether he will now be facing an extended stint on the sidelines.
The upside, if it can be called that, was that Read's departure enabled the All Blacks to get debutant Sam Cane on earlier than they had planned. The instructions to Cane were simple - get stuck in. He wasn't shy. There was purpose and drive in his ball-carrying and he had a fair idea where the ball was.
It was a tougher night for the trio making their second tests. Scorer of three tries on debut and generally acclaimed to have been the most destructive attacking weapon at Eden Park, Julia Savea had an old ghost come visit.
The Irish had presumably done their homework and realised that the All Black left wing had some issues last year dealing with the high ball.
Connor Murray stuck up a bomb early in the first half just to test whether Savea was fully reformed. The ball was spilled, albeit backwards, but the All Blacks conceded a penalty from the ensuing melee.
A second bomb later in the half had Savea in a bigger mess - he came forward, stopped, lost it in the floodlights and let it bounce. Long term, there will be concerns that Savea will be a target the South Africans, Wallabies and Pumas won't be able to resist.