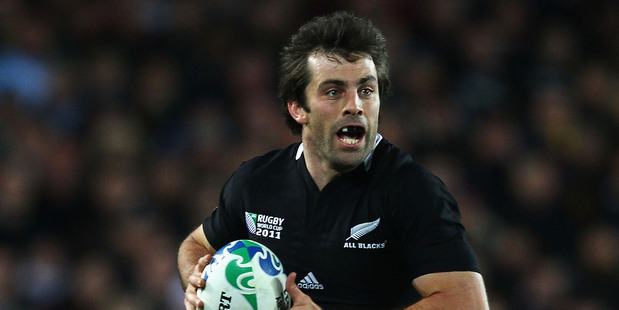 In the six years Brian O'Driscoll and Conrad Smith have tussled, there has never been any other thought than the Irishman being the superior player. Until now.
A player as fine as O'Driscoll will forever be able to hold his head high but in the context of this series, he's the second best centre on show.
The pecking order has changed and not solely because the Irish skipper, while not dramatically, is finally showing signs that age and 12 years of international rugby are taking their toll.
He's still a threat, just not in the way he once was. He probes and nudges - but back in the day, he scythed. No one can doubt that he is the greatest player produced by Ireland - a phenomenon, the like of which may never be seen again but he's merely mortal these days, no longer rugby divinity.
But to focus on the decline of O'Driscoll would run the danger of failing to notice the ascent of Smith. Far from being a summit, the World Cup appears to have been a launching pad for the 30-year-old.
While some of his senior peers have struggled to pick up their game and mental intensity, the Hurricanes captain has risen to new levels. Being a world champion sits well with him: in his eyes, it is not a reason to feel smug, it's an obligation to demand more.
His every touch in Auckland was meaningful and important. He held the ball, took the gainline and found the space for both himself and others. When he didn't have it, he closed Ireland down to the extent that there were times when it was easy to forget O'Driscoll was even on the field.
Smith revealed a few weeks into Super Rugby that he finished the World Cup and immediately began thinking of the Hurricanes. The desire to prove the doubters wrong, to make amends for a dismal 2011, was strong. As captain, he would have a major role to play in guiding a young side. There was only one option open: he'd have to lead by example and that is exactly what Smith has done throughout 2012.
"I have always enjoyed my football," he says. "I have always kept a simple philosophy about it - I love it, I love being competitive, but it is just a game and that has worked well for me. You realise it is not going to be forever, so you enjoy it while it lasts.
"I was quite nervous before [the first test]. It certainly didn't feel like anything had got any easier.
"There was a fair bit of anxiety. It shows you never really relax and that there is something special about this group and this jersey."
Simplicity has always been the key to Smith's game but for some reason it feels like his innate ability to do the right thing, to settle those around him and marshall the defence, is more valuable than ever.
His influence is increasing and by the end of this series, it would be a surprise if many impartial judges felt O'Driscoll was still the better player. Smith can't match the great man when evaluated over an entire career but if the focus falls on the present, then the New Zealander and not the Irishman would be the selection for any composite XV.
He is, of course, helped enormously by the collective dominance. Life is easier, a lot easier, when the forwards are on top and providing the backs with space to play.
The All Blacks have rarely been in trouble against Ireland since Smith first played them in Wellington four years ago.
He's never had to contend with O'Driscoll on the front foot and Smith, being a lawyer, feels the inequity of the overall contest has made judgmental comparisons unfair.
"Each time I have played him, we [All Blacks] have had really good nights and what I really respect about him is that I know what it is like being on a team when you are playing behind a pack that doesn't have ascendancy," he says.
"It is hard. There are few opportunities and the opportunities you do get are not usually great. But he still works hard and he still creates three or four half-opportunities for his team. I know when I am in that position with the Hurricanes, it is easy enough to switch off and not even feature."
Maybe they are unfair, but comparisons are inevitable and Smith, however reluctant he may be to accept the praise, has surpassed O'Driscoll.