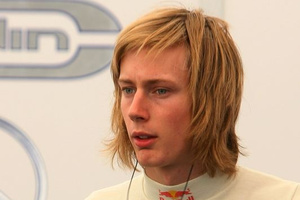 The Le Mans 24 Hours is the world's most iconic sports car endurance race, and one where New Zealanders have left their mark in the past.
During the making of the film Le Mans, Steve McQueen, a racer himself, described racing and being at the Circuit de la Sarthe. "A lot of people go through life doing things badly. Racing's important to men who do it well. When you're racing, it's life. Anything that happens before or after is just waiting."
Chris Amon and Bruce McLaren understood that statement all too well, having won the race in 1966 in a Ford GT40 and now it is the turn of a new generation of Kiwi racers to have a pop at winning a Le Mans 24 Hour title.
Former Red Bull Racing reserve driver Brendon Hartley pulls on his helmet this weekend in an Oreca 03-Nissan with Brits Jody Firth and Warren Hughes, fellow LMP2 pilots.
Hartley turned heads at the last round of the World Endurance Championship finishing third in the LMP2 class driving for the Irish-based Murphy Prototypes Team. The six-hour event was held at Spa Francorchamps, Belgium, and was Hartley's debut in the Le Mans Sports Prototype category.
"I'm very, very happy about being able to race at Le Mans. It's a big chance for me and a great opportunity," said Hartley.
"I definitely showed a few people what I could do [podium finish at the last round] by setting some of the fastest race laps and it went really well.
"It's the reason I'm at Le Mans really. It's the race that every single sports car driver wants to do."
Automatic entry is granted only if a team has won a previous Le Mans 24 Hour race event, or won a Le Mans-based series. The grid allows only 56 cars to line up come race day so for Hartley to make the lineup in only his second tilt in sports cars is something special.
"There's a queue of people with a load of money waiting to get a drive and I've been very, very fortunate to land the deal.
"It's a very professional race and that's why I think I've got my chance.
"I can't believe the number of people that will watch the race - 450,000 to 500,000 over the two days is amazing," said Hartley.
The New Zealander has spent most of his career racing open wheelers, and while his LMP2 looks completely different to his former steeds, Hartley has not been fazed by the transition.
"The cars are proper cars and in some ways similar to what I've been driving anyway.
"Downforce levels are pretty similar and the cars are very quick," said Hartley.
Drivers will cover over 5000km at race speed. Physical fitness, concentration, race craft and a whole host of other things will all have to be aligned to get to the finish line, let alone win a class or the race outright.