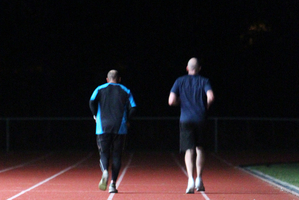 If the expected 5000 runners and walkers from at least nine countries and all around New Zealand turn up at Wellington's Westpac Stadium for the 27th annual Wellington marathon, half marathon, 10km and kids' magic mile, it could the capital's biggest marathon event ever.
Established in 1985 by the Wellington Marathon Clinic, for almost 20 years this race was a popular but modest mid-winter goal attracting less than 1000 entrants. But in 2004 a venue change to Westpac Stadium saw it become the country's fastest-growing marathon event.
"In the last three years we've had entries in the 4000s, so we're hoping the event might crack 5000 for the first time," said race director Sally Anderson.
The combined marathon, half-marathon, 10km and magic mile is defying the financial recession, says Anderson. "Simple and cost-effective activities such as running and walking are enjoying unprecedented growth, so good events haven't been affected by the recession."
In the feature full marathon, five-time winner Grant McLean returns looking for a sixth title. But he faces Christchurch's Dave Ridley and Rick Godfrey, and another former winner in Wellington's Daniel Clendon.
The 44-year-old McLean still holds the course record at 2hr 31min 38sec, but Ridley and Godfrey are both looking for sub-2hr 30min performances so the race could produce a new course record.
The women's full marathon record is also likely to go with Auckland's Lesley Turner-Hall and Australian Sara Burgess having best times - several minutes faster than the race record of 3hr 57sec set by Wellington's Lotty Turnidge in 2009.
The half-marathon record is almost certain to be broken, with Kenyan Kip Kemei entered.
But if he fails to handle the Wellington winter weather, top locals Tim Hodge and James Richardson will be waiting in the wings.
Among the women, Dunedin-based Canadian Anne-Marie Madden is clear favourite and will be chasing the race record of 1hr 17min 49sec set by Nelson-based American Belinda Wimmer in 2008.
But the person mostly likely to shine is Christchurch's Kerry Faas. He was favourite for the half-marathon last year but was in a bad car accident the week before the race. In his comeback, he hopes to clock 1hr 25min to put him in the top 10 veterans.