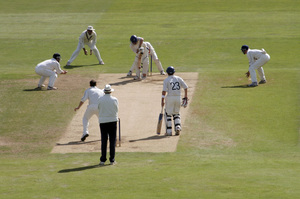 Jeremy Wells is right about one thing. Watching test cricket at cavernous Eden Park is a soulless experience.
His vision of developing Victoria Park into a test venue has little merit, however. It involves a substantial dollop of wishful thinking and an unspecified and unsourced amount of funding. It also ignores Colin Maiden Park, a stopgap venue that has already proved itself eminently suitable for first-class and limited-overs cricket. Developing that ground further is a more obvious step if cricket's governors wish to play tests at boutique grounds.
Wells talks of creating a "beautiful environment". But what of the motorway flyover at one end of Victoria Park? That need not automatically disqualify a venue, as Essex's ground at Chelmsford attests. But it does not exactly enhance a park's charm. Nor is it very likely that Victoria Park's location on the fringe of the city centre will attract a host of office workers during lunchtime or after work. Rather, that location serves as a deterrent because of the lack of affordable car parking nearby.
Contrast that with Colin Maiden Park. There is plentiful parking in the immediate area, and Glen Innes is no more difficult to reach than Eden Park. Most facilities are in place and could be developed further.
Its seating capacity would cater for most tests, and there would be no need to create grass embankments or undertake other expensive work. There would also be none of the problems associated with the conscription of a park enjoyed by many people for a wide variety of pastimes.