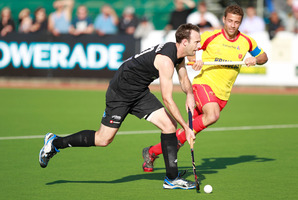 36 years after his father won gold, Ryan Archibald says New Zealand have goods for London glory.
Cast an eye down the names of New Zealand's most celebrated hockey team, then look at the group named this week to chase Olympic glory in London.
The link is Archibald. Father Jeff was in the team that beat Australia 1-0 to win the 1976 Olympic gold in Montreal; son Ryan is preparing for his second Games as one of the more influential figures in the current Black Sticks squad.
None of the present group were born when Tony Ineson slammed in the only goal of the final 36 years ago. So does it still resonate for the present group?
Archibald junior, now 31 and with a whopping 265 caps to his name over a career which began in 1997, has heard all the stories.
"For this group, it's a bit of a legend, an old campfire story," he laughed.
"For them it's pretty hard to put that result into context. I don't know that we can take too much inspiration from it apart from the fact we know for New Zealand to win gold is not an impossibility. We are probably ranked in a similar position to that 1976 team when they won.
"The unexpectedness of it was a huge factor in it sticking in people's memories and hockey in New Zealand will always be proud of that team."
Archibald, a skilled midfield attacker, should be preparing for his third Olympics. He was part of the 2000 squad which failed to qualify for Sydney; then broke a leg in a practice game shortly before the Athens event. He flew over at a late stage to vainly try and prove his fitness; and was in the Beijing squad in 2008.
On the current squad Archibald is unequivocal: "This is the strongest squad I've played in.
"The Athens Olympic team was very good. I'd put this team on a par with that, with the exception that this team has a little more firepower about it. We've got quite a creative and attacking midfield and some young strikers who are really natural goal scorers."
The Black Sticks gave themselves a serious jab of self-belief this month in winning the Azlan Shah tournament in Malaysia for the first time. Okay, Germany and the Netherlands, world Nos 2 and 3 who are in their Olympic pool, were not there. But even so, pocketing hardware never hurts.
Archibald points to the experience within the squad. There is a seasoned core to the group.
Archibald, fellow attacker Phil Burrows (277 caps), captain Dean Couzins (251), and fellow defender Blair Hopping (249) know their way around the park. Seven others are well past 100 internationals.
Experience is one of the big strengths of this squad.
Archibald believes the Black Sticks will match any team in terms of fitness. The key to making a run for the podium is ensuring their skills are top notch.
"My personal view is it comes down to our technical ability, consistently doing that side of the game well.
"Eliminate unforced errors, cheap turnovers, making our passing and receiving slick. That's where teams like Germany and Holland are traditionally better than us."
As for the highly accomplished Archibald, age certainly is not wearying him. He still feels in his prime.
He admits he's lost a touch of speed, but reckons himself as fit and strong as he's ever been and "in terms of ability to influence a game on the field I think I'm still right up there".
His coach, Shane McLeod, agreed.
"He has a confidence about how he plays, and when he's playing well there's very few in the world who can match him," McLeod said.
"He's very assured with the ball and has a lot of finesse. A lot of our players play well off him. If he catches fire in London I think it's going to be contagious."
No pressure, then.
Archibald, married last year to Kim, is not sure what his hockey future holds. He will take time after London to ponder that. Much will depend on motivation. Rio de Janeiro in 2016 seems a way off. Other priorities will emerge.
Motivation in Archibald's book is not milestones like 300 caps. Team achievements matter more.
"The longer you play the less important caps become. A great result in London is a goal. Reaching team goals becomes more and more important, a lot more satisfying than a number of caps."
"Six or seven" teams will be vying for the semifinals, New Zealand one of them. Win the games they are expected to - unlike Beijing when a draw with China mid-tournament proved costly - and they'll be in the hunt.
There's no question a sharp, inspirational Archibald shapes as a key figure in that.