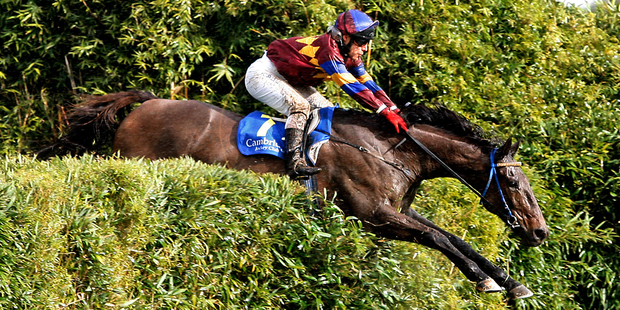 Central Districts jockey Buddy Lammas will have his first jumping ride at Awapuni tomorrow.
And, if you are going to do that it may as well be in style - Lammas will ride accomplished jumper Bally Heights in the $30,000 Manawatu ITM Awapuni Hurdles.
Lammas has ridden 356 flat winners for $5.6 million in stakes.
He decided a month ago to take a few jumps rides and competed at the jumping trials at Levin and Awapuni.
He was spotted there by jumping enthusiast Paul Nelson, who engaged Lammas for Bally Heights for a flat race at Awapuni a couple of weeks ago. "Paul asked me if I'd ride Bally Heights in this hurdle race and I said yes."
It nearly all came unstuck though. Lammas was told by an official midweek that his jumping licence had been granted.
While riding at Wanganui yesterday, stewards approached him and told him he was not eligible to ride Bally Heights because the jumping application had not been reviewed.
"And it hadn't, so I got things in motion and a while later it was all processed. Imagine if they hadn't come to me today - I'd have arrived at the races on Saturday and it would have been too late."
Paul Nelson won't be losing too much sleep over the Bally Heights result. "A combination of Buddy having his first jumps ride and the horse having his first jumps race since a respiratory operation leave a lot up in the air.
"Buddy is going to have to allow the horse to find his feet. This is all about getting the horse to get his wind going again properly.
"He had his wind problem all last winter and still raced well, so we're hoping things can be even better this year. We were very satisfied with his fifth on the flat recently."
Favouritism is likely to be shared between last-start hurdles winner Morpheus and Waitaha Toa, who made a big splash in winning a handful of jumps races last winter.
The FMG Manawatu Steeplechase is a much more open affair.
Only nine acceptors, but it's difficult to totally dismiss any of them.
When Sir Heelan, veteran though he might be, won the McGregor Grant Steeples at Ellerslie recently for John Wheeler, he promoted his name for races such as this.
He led and kept going in that race and looks even better placed here.If you think the 59kg Special Days has to carry in the $25,000 Chevalier Produce Mile at Ellerslie tomorrow looks tough, consider a couple of factors.
One being that the $1.2 million Special Days has earned is around the collective stakemoney won by the remainder of the field.
Also, at eight, he may be getting on in years, but his 38 career starts are fewer than those of six rivals. And, that opposition is such that two, Hurricane Mickey and Taking The Mickey, are only weeks away from being collectively 19 years of age.
In terms of form, Special Days grabbed attention when, in his first start back in New Zealand since returning from Hong Kong, he flashed home to be narrowly beaten in a close finish at Ellerslie three weeks ago.
That was at 1200m and although that probably suited him in a fresh state, Special Days is more accomplished at tomorrow's distance of 1600m, at which four of his career seven wins have been over.
The field is a mixed bunch and Special Days retains the class to be considered a strong winning chance. Golden Globe's two preparatory runs since resuming should have him fit to be a real threat in the other open handicap, the Barfoot & Thompson Ellerslie Jockey of The Year.
The Matamata sprinter finished a nice fourth behind Ginga Ninja at Ellerslie last start and this time has a huge weight advantage over Ginga Ninja.
Sandblaster could be a danger after one run back from a spell.