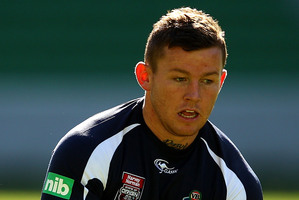 Straight off a starring role in Wednesday's State of Origin match, Todd Carney shapes as one of the biggest impediments to a Warriors victory.
Life hasn't always been so sweet for the standoff. Here's six of the worst from No6.
1
He makes his debut for the Raiders just a couple of weeks after his 18th birthday in 2004 but by the time Carney is sacked in 2008 the club reportedly holds a dossier on him that details some 30 indiscretions. His first major brush with the law comes in December 2006. After a binge-drinking session, he drives through his home town of Goulburn, alternating between dropping burnouts and racing at speeds of up to 100km/h. He is apprehended and convicted of mid-range drink driving and reckless driving and banned from driving for five years.
2
Just four months after that conviction, Carney leads police on a high-speed car chase through Canberra's streets in Raiders teammate and fellow Raiders player Steve Irwin's (no, not that one) ute.
Carney eventually parks the car in a dead-end street and runs away on foot leaving Irwin, who tells the police Carney was the driver, behind. Carney is placed on a good-behaviour bond and sentenced to 200 hours of community service. Irwin is sacked by the Raiders. Carney isn't.
3
Carney's troubles aren't limited to vehicles. In July 2008 he is accused of urinating on a patron at the All Bar Nun nightclub in Canberra. Police investigate but the complaint, from a friend of teammate Dane Tilse, is eventually withdrawn. Not for the last time, Carney appears to be emulating famous hellraiser Julian O'Neill - the first player banished by league for urinating on a croupier at a casino in 1995.
4
After being turfed out of the Goulburn Workies, Carney reacts by jumping up and down on a parked car. He is convicted of offences that include smashing the glass door of a mobile phone store several months earlier. He receives a 12-month suspended jail sentence and is banned from Goulburn. The ban means he faces arrest if he sets foot in the town. That isn't a problem, however, as is is sacked by the Raiders and de-registered by the NRL. He spends the year in far north Queensland, playing park footy and working behind a bar.
5
In January 2010 Carney is back in the NRL with the Roosters. He celebrates by setting fire to a man's pants as a prank during New Year's Eve celebrations at Queensland's Airlie Beach. The man suffers burns to his buttock, scrotum and upper thighs but doesn't press charges. Once again, Carney is a mere pretender. In 2004 on a pre-season trip Down Under with Widnes, O'Neill attempts to set fire to a young boy in a dolphin suit on a team booze cruise (never a great idea) on the Hastings River. When accosted, O'Neill strips to his undies, jumps off the boat, swims to shore and hitchhikes back to the team's hotel.
6
With the 2011 pre-season almost over, Carney is pulled over by police on Coogee Bay Road at 7am on February 26, 2011. After drinking eight-to-ten Hahn Superdrys (freebies for the product placement to the Herald sports desk please) the night before, he fails a breath test and is charged with low-range drink driving. He escapes a threatened jail sentence and pledges to kick the bottle. "I'm off the booze, too. Man, I won't be touching the stuff for a long, long time." By that he means five months. In August a cab driver takes photos of Carney after he requests a lift between two pubs. He has been drinking with Roosters teammates Nate Myles and Frank-Paul Nu'uausala, and is sacked by the club. Steve Deane