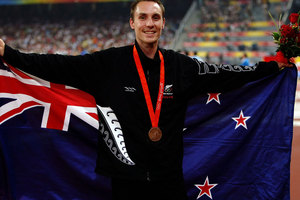 The New Zealand Olympic team will win seven medals at this years' London games, two fewer than in Beijing, a study has predicted.
PricewaterhouseCoopers (PwC) has conducted the study prior to every Olympic Games since 2000, and calculates its findings by using a series of algorithms which take into account economic and political factors.
NZ Olympic Committee spokeswoman Ashley Abbott said the 2012 NZ Olympic team are planning to bring home NZ's 100th medal - just 10 medals away.
"Performances over the last year mean that we are on track for that."
We have 22 athletes sitting in the top three (of their respective sports) in the world she said.
"We think New Zealand athletes are in very good shape."
Participating countries' size, income levels, political history, past performance and whether they are hosting the games all affected the reports' findings.
"Indeed we find that host nations generally 'punch above their weight' at the Olympics, which bodes well for the British team in London," the report states.
The report found that in general, the number of medals won increases with the population and economic wealth of the country, but not always.
"David can sometimes beat Goliath in the Olympic arena, although superpowers like the US, China and Russia continue to dominate at the top of the medal table."
The legacy of the USSR and modern communist regimes shows that sport is one area where state planning and intervention can produce results, the report found.
"However, successive estimations of our model over the last four Olympics show that these effects are gradually fading for the ex-Soviet countries, except for China which still has a strong state policy of promoting Olympic sport."
The home country advantage variable remains highly significant, states the report, which forecasts that Great Britain will have the highest increase in medals compared to the 2008 games - up by seven to 54.
The country with the biggest decrease this year is China however, losing the home advantage and with it 13 medals.
The winners podium remains the same, reflecting past performance, with the United States, China and Russia respectively holding the top three spots.
John Hawksworth, PwC's (UK) Chief Economist said it will be interesting to see how actual medal performance in London compares with the company's estimates, a question they plan on revisiting after the Olympic Games.
New Zealand was not mentioned in the report leading up to the 2008 Olympics as it had failed to make the top 30 medal-winning countries in Athens in 2004.

- APNZ