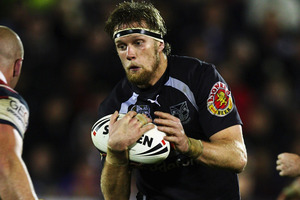 He's long been touted as the missing piece in a jumbled Warriors defensive puzzle but Micheal Luck is warning against expecting miracles on his return, against the Sharks in Sydney on Saturday night.
Luck has seen enough from the sidelines this season during a frustratingly drawn-out recovery from multiple surgeries to know how and where he can help out a Warriors defence that has shipped 304 points to rank fourth from last in the competition. But he knows his presence alone won't necessarily fix all that has ailed the team this season.
"I'm not going to be able to go out there and fix every issue," Luck said.
"I can just go out there and do what I've always done. I suppose what I can contribute is a bit of composure under duress - what to do in what situations. I've seen a bit and done a bit over the years."
Luck's defensive workrate and communication skills will most certainly be welcome. On Saturday night he will come off the bench about 25 minutes into the match and look to help tighten things up when legs and minds are beginning to tire.
"Sitting and watching this year I've been able to identify a few things. Bringing those up and making guys aware of them when they are under fatigue, maybe that is all it needs. If you draw blokes' attention to it then maybe you can fix it."
Elijah Taylor, the workhorse backrower who deputised for Luck at lock for much of the season before switching to second row to help stiffen that defensive corridor, believes Luck's return will have a big impact.
"He is going to bring leadership, no doubt," Taylor said.
"He has got a tonne of experience and when games are on the line he is someone to look to direct the ship. He knows the game inside out and he knows what is required.
"Just having him there on the field with his communication and talk is huge for us, especially when our big boys get tired. He'll help them out and keep them honest."
With Luck having confirmed his plans to retire at the end of this season, the clock is ticking on his 11-year, 220-game career.
After travelling a tortuous comeback route from operations to his wrist, shoulder and finger, Luck is determined to make the most of the half-season he now has left as an NRL player.
"I've made the decision I am going to enjoy it. [Saturday is] probably the last time in my life I'll ever go to Shark Park so I'll take it all in and have a good time doing it. Hopefully that brings a good game of footy out of me.
"I don't want to get too sentimental about it. I suppose that will rear its head down the track.
"I'll be happy at the end of Saturday night to come off the field in one piece and have a game under my belt."