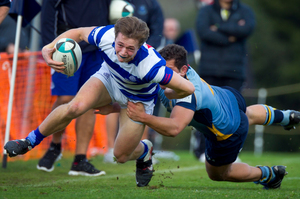 Battling through their worst season in recent memory, the Auckland Grammar 1st XI have a golden opportunity to learn from some of the best soccer players.
Members of the shadow Olympic under-23 team, including some of those who played in the ill-fated Oceania Nations Cup in the Solomon Islands, will be at AGS tomorrow morning for a training session under coach Neil Emblen and his assistant, former All Whites captain Chris Zoricich.
Tim Myers, Ian Hogg, Adam McGeorge and Tim Payne are expected to be at the session after arriving back from the Nations Cup later today.
The AGS players will be able to join the session for 30 or so minutes as they try to ease the pain of a 3-1 loss to Takapuna Grammar in the latest round of the premier championship.
Ags, who have won only one of their five games this season - and that against arch-rivals Mt Albert Grammar - have only Rangitoto below them on the points table.
With just the top four teams guaranteed a place in premier championship during winter tournament week, AGS will have to rely on a wildcard entry if they are to play in Nelson in September.
In other fifth round action, Sacred Heart beat KBHS to take a two-point lead over WBHS, who thumped Rangitoto 7-0 away, and MAGS who were held 1-1 at home by St Kentigern.
MAGS, keen to celebrate the school's 90th jubilee in style, stumbled to their first draw of the season after taking the lead in the 29th minute.
MAGS coach Kevin Fallon was philosophical about the final result saying, "we lost the middle of the park and our substitutions never got to grip with the game. But let's not take away from the fine performance of the visitors. They deserved the draw."
There was even less joy from the Paul Marshall-coached MAGS girl's 1st XI who were upset 1-0 by bottom-of-the-table Massey, who celebrated their first win of the season.
BASKETBALL
Onehunga High's win over a weakened Rosmini provided the upset of the round but there was still plenty of interest in the much-anticipated clash between third and fourth-placed St Kentigern and AGS.
The St Kentigern team never gave up in a game in which the final result was not certain until the final whistle although AGS did pull away a little late in the game to win 104-93.
In the premier girl's championship, MAGS were given a winning start to their 90th jubilee with a 69-39 win over Manurewa, playing proudly in new uniforms to mark the celebrations.
HOCKEY
Diocesan hammered Kings 6-0 to continue their domination of the open A girl's championship race.
Ahead early following a successful penalty corner strike, they quickly doubled their lead with a stunning reverse shot from Georgeia Elliott-Gourdie from the top of the circle.
As Kings struggled to offer much resistance, Diocesan made the most of every opportunity in their attacking circle with Elliott-Gourdie knocking a lifted ball into goal.
Kings began the second half strongly following a half-time haka by their supporters but while they were able to string together some nice passes, they lacked the necessary support and the Diocesan players were able to push their opposition off the ball to regain possession.
With the final penalty corner of the game, five minutes from time, Diocesan finally managed to get a well-practiced, complicated manoeuvre right with Sarah Adam providing the final touch to score.
RUGBY
The highly-anticipated top-of-the-table clash between Auckland Grammar and Sacred Heart lived up to expectations with a great game of schoolboy rugby.
Sacred Heart began strongly building phase after phase in trying to stretch the AGS defence which has been very good all season.
When AGS were reduced to 14 players following a professional foul, Sacred Heart took their opportunities and scored 10 points in 10 minutes. However the home side slowly began to dominate territory and possession which led to scoring opportunities.
Will Cosgriff combined with Shaun Stevenson and Josh Minhinnick on the blind side and with George Hitchcock outstanding in support he crossed for Auckland Grammar's first try. A conversion and two penalties kicked by Renata Roberts-Tenana had the home team ahead 13-10 at halftime.
In the second half, SHC was also reduced to 14 men after a high tackle and Grammar scored two unconverted tries to lead 23-16, before Sacred Heart scored a late try, which with the kick took them to a seemingly winning 24-23 lead.
However a Sacred Heart infringement led to a penalty and Roberts-Tenana stepped up to kick Grammar to their hard-fought 26-24 victory.
World champions Kelston BHS had their first look at the new artificial pitch in the Cage at St Peters and liked what they saw as they played their way to a 30-17 victory.
In what would become the theme of the first half, Kelston wasted much of their good work with too many unforced errors, off-sides and infringements. St Peters cashed in with three penalties landed by fullback Patrick Tausie for a 9-7 lead nearing the end of the half. Kelston rallied strongly, strung together some possession without being penalised and were rewarded when centre Malega Esera crashed over to score and give the visitors a 12-9 halftime lead.
It was an encouraging performance from Kelston who kept alive their dream of making the top four. However with six regular season matches remaining, Kelston will need to keep improving as the Moascar Cup will potentially be defended four more times in the next six weeks.
NORTH HARBOUR
Keen to continue their unbeaten streak, Westlake BHS headed into enemy territory with expectations of a tight match against the bigger Massey High XV.
Those thoughts quickly became a reality as the home side put Westlake on the back foot after strong running from centre Environ To'o who split the WBHS midfield and paved the way for open side flanker Hapakuki Moala-Liava'a to score in the corner.
Westlake persisted and were rewarded when wing Peter Hurst found a gap and outsped the Massey defence. Poor discipline at the breakdown by Massey also gave WBHS opportunities to move the ball wide from set play where the defence was often found exposed. This gave the Westlake forwards the opportunity to strike back.
Massey led 14-10 at half-time to set up what was to be a hard-fought second half effort from both teams.
The visitors, with an unconverted Calib Schuman try, took a one-point lead which was extended to four when Callum Law kicked a gift penalty.
Massey mounted 20 minutes of attacking pressure on the Westlake defence but they held strong and ended the game 18-14 victors.
In the other 1A fixtures Northcote accounted for Glenfield with a clinical 52-0 win, Rosmini thumped Mahurangi 70-3 and Takapuna Grammar was too good for Rangitoto 55-0. With the final games of round one on Saturday, Glenfield are already facing certain relegation to 1B. They will be joined by one of the three teams on 10 points - Mahurangi, Rangitoto and Northcote - who are are likely to be split on points differential. With that in mind, the Northcote v TGS clash is the likely match of the day. - Danny Drake
WAIKATO
After trailing 8-10 at halftime, Hamilton BHS scored three tries in the second spell to comfortably beat New Plymouth BHS 25-10 in their Super 8 match played in New Plymouth. Hooker Solomone Tuuafu (2), wing Te Maire Martin and flanker Isaac Te Tamaki scored the winning team's tries. First-five Te Raina Richards-Coxhead showed astute tactical judgement throughout and was Hamilton's stand-out player.
St Paul's Collegiate had their first win in the Central North Island competition, comfortably beating Masterton's Rathkeale College 50-10.
On the local scene, Cambridge High suffered their first loss of the season, shaded 17-16 by Morrinsville College. The other division one games were more clear cut with St Peters trouncing St Johns 24-0 and Matamata College beating Tokoroa HS 25-7.
ON THE WEB