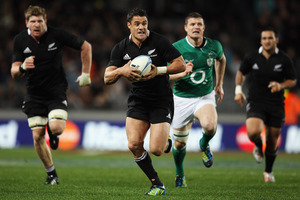 Mystery and imagination took a good rucking in rugby quite some time ago.
Where once we drooled over the majesty of a sidestepping wing or rampaging loose forward, we now count sports statistics with the numerical zeal that the Treasury uses for whatever the Treasury does.
Had Ian Kirkpatrick scored his magnificent runaway try against the Lions in modern times, someone would have revealed his percentage of rucks hit was very poor. The statisticians could have done Colin Meads in. No one has ever uncovered Don Clarke's kicking success rate either.
Rugby isn't alone in this. League has been turned into mathematics with possession and territorial charts to make a university professor's heart sing. But to hell with the number-crunchers. To my mind, the All Blacks and other so-called major teams should be playing tests in the Pacific Islands, whatever the short-term financial implications.
The first All Black test against Ireland only reinforced that these endless games against traditional northern foes are often grossly overrated, that fresh fields need to be found at least now and then.
Yet despite one obvious answer, the PI subject is so far off the official radar that this qualifies as tilting at windmills for now.
Why, you wonder, don't the island teams demand better consideration by making more noise and promoting their value to the international game, even in terms of playing more away games. This is where the IRB's financial assistance should be aimed.
Seriously, folks, how can anyone describe the Eden Park clash as a top-notch international contest. The All Blacks hovered around second and third gears, and won by 30-plus points.
The underpowered Irish were very slick in patches and had fine individual performances, but were hopeless and didn't physically confront the home side. The IRB and NZRU dish this sort of stuff up to us year after year, while the potentially explosive guns of the Pacific Islands lie dormant.
Maybe the NZRU fears the All Blacks losing should they regularly venture to Suva, Nuku'alofa and Apia - their one trip to the region did almost end in defeat to Fiji, after all.
On the mystery and imagination front, is there a more exciting prospect than loading up a plane with a bunch of our finest and embarking on a test tour of the Pacific Islands (Fiji's political situation notwithstanding) where the All Blacks would receive enthusiastic receptions off the fields, and ferocious ones on them.
While consistency has not been a virtue - fully understandable given the hurdles they face - all three countries have proven themselves more than competitive at various stages. Other rugby powers such as England, France, South Africa and Australia should also play there on what adds up to a regular basis.
Some of the Pacific Island players would be battered and weary after long European club seasons, as Ireland are, but home ground advantage would negate that. They do have Southern Hemisphere players to call on.
The effect on rugby in the islands would be enormous. This in turn might help those teams attract and retain leading players through further strengthening their rugby identity, although the lure of the All Blacks, Wallabies etc, etc would remain strong.
The IRB now pays condescending lip service to an international game - when push comes to shove at the World Cup, the governing body even operates a conspiracy against the lower-ranked teams.
How on earth does rugby get away with this? Even the ICC, rightfully maligned for a soft attitude towards corruption in cricket, presides over a schedule that has included tours to Zimbabwe and Bangladesh.
Cricket teams have risked their necks going to Pakistan and Sri Lanka. As we have just seen with the All Whites, soccer goes to backwaters and with interesting results.
As to why the Pacific Island countries have not demanded better treatment, who knows? Maybe their horizons have been lowered, after years of conditioning by the IRB, one of the last great colonial powers. They are treated as an inferior subculture.
The time is long overdue for rugby's old boy network to be broken down. The Pacific Island countries have the right. Now they need to find the willpower.