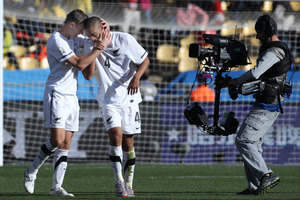 Tahiti's deserved triumph in the Oceania Nations Cup is the start - and a warning to New Zealand that there may be more to come.
Having claimed bragging rights and a ticket to next year's Confederations Cup in Brazil at the expense of the under-performing All Whites, the Tahitians will have their sights set on more spoils.
The soon to be revamped Oceania Champions League is an obvious target and a chance to inflict more pain on an already pained New Zealand.
In a controversial move, Auckland City and Waitakere United have been placed in the same group for the next Champions League. They were separated in the 2011-12 version won narrowly by Auckland City over Tahitian champions AS Tefana.
The next O-League, scheduled for mid-2013, is set to feature the champions of Tahiti and New Caledonia, whose national side lost 1-0 to Tahiti in the final of the Nations Cup, in the same group as Auckland City and Waitakere United.
AS Dragon, a team backed by two Chinese millionaires and boasting several players with a strong French connection, beat Tefana to win the just-finished Tahitian league and claim their place in the O-League.
Given the injection of cash headed the Tahitians' way - they are guaranteed a minimum of US$1 million ($1.29 million) for just turning up in Brazil - the foundation is there.
In the past New Zealand club teams could count on picking up maximum points at home and a point or two away and pack their bags. No more.
The Nations Cup showed that although in the past teams have been capable of the odd upset and have fielded teams boasting a star player or two, football in these island nations has become more structured on and off the field, producing several players capable of playing at a higher level.
While New Zealand teams continue to rule at age-group level, the talent in these countries is more apparent at senior level and with the right coaching they are deserving challengers to New Zealand's domination.
A couple of seasons ago Papua New Guinea club Hekari United toppled Waitakere United in the two-leg O-League final and went on to represent the confederation at Club World Cup. That hurt New Zealand Football, with the national association and clubs missing out on needed funds.
NZF bosses insist they had never counted on the money on offer for winning through to the Confederations Cup, but the pain goes much deeper than a few dollars.
On the positive side, a team other than New Zealand have won through - this can only strengthen Oceania's claim to stay in the Fifa family.