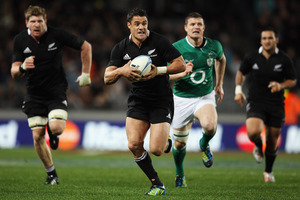 In these days of constant computer analysis, Daniel Carter and Conrad Smith are the All Blacks' onfield software.
They run the programmes which unleash the side and allow them to byte into the opposition.
Carter was back in test mode after his eight-month absence, his drives were all in sync, his goalkicking was magnificent and his instincts as sharp as they have ever been.
He taunted the Irish with his array of skills which were embellished by the rapid-fire delivery from new halfback Aaron Smith.
Carter ran at the line and poked his hands through the tackle, gassed into a gap or passed just before contact.
One flick-pass behind his back was just sublime and without the television replay that gem would have been missed by most of the 43,300 at the park, and the global audience.
Several times he pilfered the ball as he and Conrad Smith topped the team tackle count, while one flat kickoff to Kieran Read was perfect symmetry from the pair.
Carter's deception and timing taunted defenders and when necessary, he serviced his outsides or knocked a kick or two into space.
One missed conversion from the sideline in eight attempts was about the only blemish in his work.
Wider out Smith showed the judgment which marks his play ahead of others, in a role where his body may not be the biggest, hardest or fastest but his brain allows him to out-manoeuvre rivals.
Early on there were examples when Sonny Bill Williams lost control of the ball several times as he bashed into contact.
It is hard to recall many times throughout his career when Smith makes that error or fails to recycle possession. Eventually he got a personal reward when he ran on to Aaron Cruden's foray for an uninterrupted jog to the tryline.
New selector and attack coach Ian Foster said the week leading into the test had been a learning experience for him and he had been particularly impressed with the work the team leaders did off the park.
"I thought DC and Conrad in particular with the backs, had big weeks and showed a lot of leadership and calming influence to a few of the debutants and some of their performances probably reflected that."
Julian Savea claimed the headlines with a three-try debut. He offered a mix of power and pace, doing what he had to on the end of the chain but also showing his venom when he smashed his way through several defenders before he had another midfield break halted by a fortunate ankle-tap.
"It was a bit surreal, I was just happy to pull on the jersey and represent the country," Savea said later.
He started to get nervous when he got into the changing rooms but senior players talked to him and settled his anxieties.
Savea also got plenty of confidence when he smeared Rob Kearney with a front-on dominant tackle which ended up earning his side three points from Carter's 52m penalty.
Further back, fullback Israel Dagg said the chatter was high, the communication was strong.
"DC calls the shots but we give him solutions and give him feedback about what's happening out wide and if we need the ball he will get it to us," he said. "I want to get more involved and that is something I have been working hard on at the Crusaders. It has been slowly coming along and tonight it came off."
Savea was "just a human bus" and if you gave him the ball close to the line "he was always going to park it", Dagg said.
New Zealand (Julian Savea 3, Adam Thomson, Conrad Smith tries; Dan Carter 3 pen 4 con), Ireland (Fergus McFadden try; Jonathan Sexton pen con). Halftime: 23-3.
All Blacks 42
Ireland 10