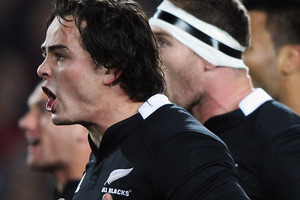 The All Blacks may have long discarded using a trial match to select their squad, but Zac Guildford says the team take part in one every week at practice.
In a week when the North v South fixture returned - without doubling as an All Black trial as in days gone by - Guildford revealed the level of competition in the national set-up meant the players were put to the test every time they train.
"At our Thursday training, we ran two teams against each other and it was pretty much like an All Black trial," he said. "You've got the likes of Sonny (Bill Williams) and Ma'a (Nonu) vying for midfield positions and competition out wide - especially with the two boys (incumbents Cory Jane and Richard Kahui) that are injured.
"It's a lot of fun when you've got that competition to keep you on your toes."
That fun translated to success against Ireland last night (Sat), with the All Blacks showing no signs of rust as they romped to a 42-10 victory in their first test since the Rugby World Cup final.
The All Blacks' backline was, in large, clinical and cohesive, belying the fact the team had spent only two training sessions together in an abridged week of build-up. Guildford put the impressive display down to individual accountability, which rendered irrelevant the relatively short time spent together.
"I think it's just everyone knowing their individual roles. We didn't spend a lot of time out on the field together but everyone went away and did their homework last week, and it made it a lot easier."
It must be an uncomfortable prospect for Ireland to consider - if this is what they All Blacks can do with only adequate preparation, what will happen after another week spent together?
"Once we get into our team patterns and start working I think we can build a lot more," Guildford said. "We hardly touched our attack during the week - we relied on our individual flair and how we've been going for our franchises."
That individual flair got them by just fine facing a country against whom the All Blacks are yet to taste defeat. A hat-trick on debut for Hurricanes' wing Julian Savea was complemented by tries to Adam Thomson and Conrad Smith to ensure, after the first 20 minutes, the encounter remained as one-sided as the history.
"What was really pleasing last night was how we attacked - with a real directness and we had good width and we took most of the opportunities," coach Steve Hansen said. "Especially when you look at the two wingers that are out at the moment and Hosea (Gear) on the bench. There's plenty of those types of players."
It's an embarrassment of riches which must leave Ireland coach Declan Kidney green with envy. It also leaves those selected looking over their shoulders and under pressure to perform.
"We've got to look to have big games, otherwise our spots will be taken," Guildford said. "It's keeping everyone on their toes, which I think is healthy."
The 23-year-old is looking forward to the second test at his home ground in Christchurch - but is well aware his place is far from secure.
"I think [Ireland] will come out much the same," he said. "I would like to get another game or two but I'll have to see if I'm picked."

- APNZ