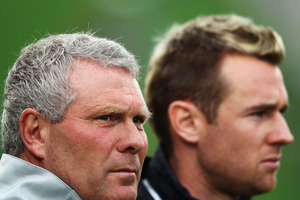 All Whites coach Ricki Herbert has spoken frankly about the pain of missing out on the FIFA Confederations Cup and says only reaching, and winning, the intercontinental playoff for a place at the World Cup can make things right for the team and the fans.
Friday's 2-0 loss to New Caledonia in the semi finals of the OFC Nations Cup in Honiara ended New Zealand's defence of their continental crown and their hopes of qualifying for a fourth FIFA Confederations Cup to be held in Brazil next year.
But a top four finish at the tournament has kept alive their hopes of reaching the 2014 FIFA World Cup - a process that resumes in September and may conclude with a home and away playoff against a North or Central American nation in November 2013 for a place at the finals.
Herbert empathises with the real sense of disappointment and in some cases anger emanating from All Whites fans at the teams Nations Cup performances and says winning back some fans will take qualification to another World Cup.
"I'm sure people won't, but don't ever underestimate what we are feeling as well," said Herbert.
"It's incredibly disappointing both personally and collectively.
"We spoke long and hard this morning and feel that a solid and successful World Cup campaign is the only thing we can do now to put everything back in place."
"The intercontinental playoff is everything now, but it was always going to be the main aim. This just puts more emphasis on it, if that is possible, than what it had yesterday."
The All Whites still have to pick themselves up and dust themselves off for one more match; a playoff for third with the Solomon Islands that acts as a curtain raiser for the main event - an all francophone final between New Caledonia and Tahiti.
Herbert says he will balance to the desire to finish on a high note with giving more valuable pacific islands experience to players who may be involved in the next stage of 2014 qualifying.
"We're certainly not going to go out there to roll over and I think we have a big obligation too, but what I would say to the public is tomorrow's game will probably have no reflection on what we want to do leading into the qualifiers in September."
"If I'm honest the third stage of World Cup qualifying is what's important to us now.
"You're going to get very little for success tomorrow other than some pride back, which I believe is important but qualifiers in September is clearly where the focus sits."
Meanwhile, New Zealand Football Chief Executive said the organisation would be able to cover for missing out on the prize money for qualifying for the FIFA Confederations Cup, which in 2009 started at US$1.4m.
"It's a blow, obviously," said McKavanagh "but financially New Zealand Football is a lot healthier and we have reached a point we are not reliant on windfalls from FIFA. We have built up reserves to prepare international teams and funds to reinvest in the development of the game."
"We don't account for prize money until it is earned so in that sense it is business as usual."
"The bigger blow is to the team's preparations for the playoff should we reach that stage. There would have been at least three quality games in Brazil at the Confederations Cup and probably another two or three on the way there.
"The goal is still to qualify for Brazil 2014, we just have to prepare differently."