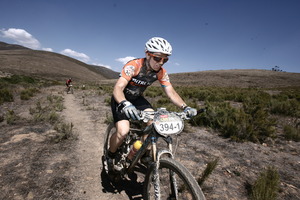 Megan Dimozantos has enjoyed a dream couple of months mountain biking around the world and capped it off with a podium finish at the elite female category of the 24-Hour Solo World Championships in Italy.
The 30-year-old store manager from Palmerston North began her journey with friend John Randal as the pair took on the Cape Epic Mountain Bike Race in South Africa which included 800km of riding on incredibly tough terrain. But the highlight of her sojourn was her third-place finish in Finale Ligure, Italy.
"I've been working towards a podium result at the 24-Hour Solo World Champs for years now, so I would have to say it has been my proudest moment so far," said Dimozantos. "But I definitely hope to top it sometime in the next couple of years."
Dimozantos said the key to her performance, where she rode 17 laps in 25h 34m 03s, was the headspace she was in.
"I had spent a lot of time travelling around, meeting amazing people, experiencing amazing things and riding amazing trails and I was just loving being on the bike. I'd had plenty of time to rest, and had been doing a lot of good climbing and long days in the saddle.
"In fact, in a sick, sadistic sort of way, I was actually looking forward to racing for 24 hours straight. I went into the race with such a positive attitude and it felt so good."
Another key to her personal best performance was the help of an unexpected support crew. Up until a week before the race she didn't have a crew lined up.
"A local bike shop owner and a small army of his mates volunteered their weekend to help me out and they did an amazing job keeping me on the bike, making sure I was well-fed and keeping the bike in working order. It wouldn't have happened without them."
Dimozantos was competing with some of the best riders in the world.
"We had the reigning world champion on the start line, so all the best girls were there. The course was really hard work for a 24-hour race.
"There was a lot of tough climbing and the descents were pretty fast and gnarly, so when I wasn't grovelling up a climb, I had to concentrate pretty intensely on what I was doing on the descent.
"There wasn't much opportunity for rest on the course. I've done a lot of 24-hour races in my time as a rider, but this one definitely challenged me most, especially mentally, and I think that was because of the pressure of sitting so high up in the field.
"All of a sudden you have something to lose if you can't keep yourself upright and moving."
Heading into the unknown was all part of the adventure for Dimozantos but it has been a hugely rewarding time.
"Travelling by yourself really sticks you out on a limb, makes you vulnerable and forces you to get out and make the most of a trip. Learning to speak Italian was great fun.
"There were countless times when I would find myself standing on a towering peak overlooking the most amazing vistas I had ever seen and, of course, there was the hundreds of kilometres of lovely trails that I rode."
By the time she arrived home, Dimozantos had clocked up 2180km of mountain biking and over 47,000m of climbing. She called the entire trip "a highlight of my life".
"If I had to pick a single moment, I would have to say that I will never forget about 4am on the weekend of the world champs, when I had been riding for 15 hours and I looked across the black ocean to see this incredible pink line split the horizon for the dawn of the new day. That was magic."
Her performance in Italy came after the Cape Epic - the event dubbed "Untamed African MTB Race".
Dimozantos and Randal had a few stages where they sneaked inside the top 10 to finish 13th eventually. "It was a good result but I'd love to go back and try and beat it."
Dimozantos said the scale of the event was mind boggling and the riding a real test.
"The terrain was steep, rocky and loose and we had temperatures that ranged from 44C all the way down to about 4C. We slept in tents for the eight days, which added sleep deprivation to our already tired bodies, showered in trucks and ate our meals in a huge mess tent.
"The atmosphere on the course was amazing. Whenever we went through a village, there would be locals lining the course cheering us on, and kids running along beside us offering us apples. It was an experience I will never forget."
Dimozantos is living her dream and riding her mountain bike at the elite level is showing her the world.