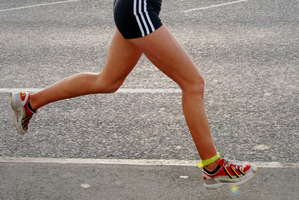 Commitment to a group can make it easier to get off the couch.
As they say, the hardest thing about going for a run is getting off the couch.
It's a typical winter evening. It's pouring with rain and you've just parked in front of the telly after a long day at work.
There is a slim chance to none you'll make yourself don the runners and get out the door to train for the upcoming full or half marathon.
But one thing that can change that mindset is being part of a running and walking club. Auckland has plenty of running clubs designed for like-minded people looking to stay fit and active in the winter months.
Dan Frost, a 36-year-old cameraman and editor, is a regular at the adiRun club in Newmarket and he loves the weekly camaraderie.
"When I run the streets on my own I struggle to push myself out of a plodding pace but with the running club the competitiveness of running with others makes you put in more effort and run at a faster pace," said Frost, who ran 41 minutes for 10km on Tuesday night.
"On nights when it's raining or cold and I would otherwise pass on a run, having a commitment with friends for the adiRun makes it harder to pull the pin."
Frost, who runs a number of events around the country like the Xterra series and The Goat Alpine run, said being part of a running club had a huge number of benefits.
"It's good to keep track of your time over a set distance and try and beat it each week. The other runners around you act as pacemakers and you know each week how well you are running just by the familiar faces around you.
"The adiRun is particularly good as they offer training and running advice before the runs and also have reward incentives when you reach a particular amount of weekly runs. They give away shirts and even shoes if you do enough runs.
"They also offer a VIP area at the Auckland Marathon for running club members. The VIP area has a luxury toilet close to the start line with no queue which is brilliant on race day."
He is building towards his goal of breaking 1 hour 30 minutes for the adidas Auckland Half Marathon in October.
Frost, who describes himself as an enthusiastic amateur, does three to four short runs per week all year-round, and is one of many keen runners across Auckland and New Zealand braving the cold this winter.
He hopes that getting into the adiRun earlier will help him achieve his ultimate goal in late October.
"I have come close to breaking 90 minutes before but never quite done it ... I am hoping the extra training runs will make the difference."