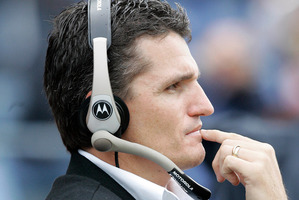 Panthers new coach is already making his mark on the club and standing firm in spite of strong criticism.
As a fullback, Ivan Cleary was a brave, unflappable sort. The same description is just as apt for Cleary the coach.
Although the club's results were uneven during his six-year tenure as Warriors coach, the same can't be said of his temperament. His ability to make decisions he knew would be deeply unpopular without wavering was the hallmark of a reign that ended with last season's grand final tilt.
Although he insists he didn't go to Penrith intending to rock the boat, Cleary has made waves in his first half-season in his new job. Dumping your star strike centre to reserve grade on the eve of Origin and standing down your hugely popular captain - albeit temporarily - tends to create a ripple or two.
The result of that shake-up - the Panthers snapped a five-game skid with a victory over the Dragons when Michael Jennings was axed and have since also tipped up Manly - suggest Cleary got another big call bang on. At the time, however, he was pilloried by a Sydney media he describes as an "aggressive beast".
Going through the wringer wasn't easy, but having survived similar trials by fire at the Warriors steeled him for the experience.
"One thing you realise doing this job - probably any leadership job really - is that big calls need to be made," Cleary said.
"Sometimes they are right and sometimes they are not. But in the end you have got to do what you think is best for the team. And that is always what I try to do.
"You've just got to back your judgment."
Having endured six roller-coaster campaigns with the Warriors, Cleary was well aware the crunch would come at the Panthers at some point. With many tipping a club that had been tracking downwards for two seasons for the wooden spoon, it was no surprise it came sooner rather than later.
The upside to a mini crisis that featured humiliating 30-0 defeats by Sydney rivals Manly and Wests Tigers in successive weeks was that Cleary discovered the true lay of the land at his new club.
"Under pressure you find that out, you find out how things really work. Looking at it now, I know a lot more than I did a few months ago.
"I didn't come in with a real plan for mass change. I just try to do it the way I think works best. They've hired me to do a job and for me to do it properly there is a certain way that I think works. There has been change and the best part is the guys have been really good with it. But in any organisation if there is change sometimes it can be a bit painful. Some go along with it, some don't and some take a bit of time with it."
The job Cleary has been tasked with at Penrith is remarkably similar to the one he performed at the Warriors - rebuild a club by making the most of the region's outstanding supply of natural talent.
"With the Warriors, the mandate for change was to become a development club. The NYC competition has really helped that and what you see now has been a few years in the making, but it is really good to see.
"Hopefully we can do something similar [at the Panthers]. Whenever Penrith has had success in the past there has been a good core of local juniors in those teams. There have been some pretty good players come out of the district over the years and I am sure there are plenty to come."
It's a project that is still in its early stages. Just 20 per cent of the NRL squad at the Panthers are Penrith locals, while the region's famous nursery has been ruthlessly raided by other Sydney clubs.
"I don't know what happened but I think they dropped the ball a bit and a lot of players went elsewhere," Cleary said. "Before you know it you are looking around thinking 'where have they all gone'? Hopefully that is not going to happen in the future."
Spending 10 of the last 12 years in New Zealand must have left a mark. His first three signings at Penrith - Lewis Brown, Dean Whare and Sika Manu - are all Kiwis.
"I miss New Zealand so much I'm trying to get a few back," he says with a wry laugh.
On Monday night he will have another chance to indulge in his fondness for Kiwis when he faces his former club for the first time. The draw has dealt Cleary a rough hand, with Wednesday night's second Origin match depriving the Panthers of Jennings, Lewis and prop Tim Grant, while the Warriors, injuries aside, will be at full strength. It's a scenario many a coach might gripe at, however barking at fate has never been Cleary's style.
"You've just got to roll with it really. There is not much you can do."