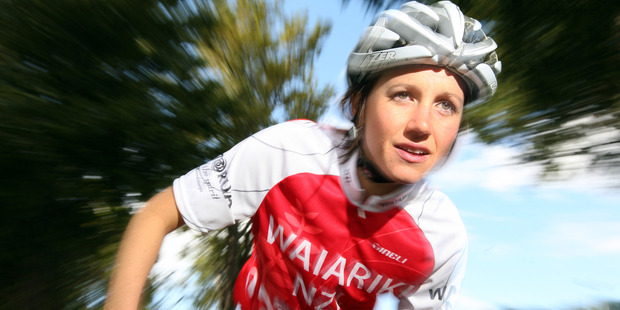 Karen Hanlen calls it a "whirlwind adventure".
That's one way of describing the past two years of her sporting life, during which she's taken up mountainbiking and qualified for the London Olympic Games.
Some athletes scrap and strive for years to make the big show. No wonder Hanlen exudes a touch of gee whiz about her rapid rise.
"When I was young my dream was to go to the Olympics. It was always in my mind.
"I thought maybe [I'd get there] in running. As I got into mountainbiking, straight away I really enjoyed it and had results. And as I started to enjoy it I thought that there was an opportunity," Hanlen said.
Hanlen's is a story rich in local flavour.
Born and bred in Whakatane, as is her husband Rob, whom she met at Whakatane High School, Hanlen is a physiotherapist at the town's hospital. Her ambition has the support of the local community, money raised with various activities including movie screenings and car washes is now up around $7000.
A mountainbike park named after Hanlen has opened and there's been a fundraiser in her honour, and several sponsors on board to help cover the costs.
"It's so neat, really humbling," she said.
Going back a couple of steps, Hanlen was a runner from a young age, particularly the mountain variety. One day she jumped on a bike and "really enjoyed it, especially the uphill parts".
She moved to multisport in 2010, got her first mountainbike - "it cost $3000 and I thought it was the best bike in the world" - and from there her focus switched to the bike discipline.
Success, and buoyed by a feeling that she had an aptitude for the discipline, Hanlen went on the World Cup circuit last year, finishing 36th, 12 places behind New Zealand's other leading mountainbiker, Rosara Joseph, who got ninth at the Beijing Olympics. Empowered by that experience, Hanlen, 32, decided to get serious this year. She had the better of Joseph domestically and things progressed to a point where the two were vying for one New Zealand spot in the Olympic field.
Hanlen's results this year gave her an edge, but the die was cast just before the most recent World Cup event in France, when Joseph broke her wrist in training. Hanlen sympathises, recognising the time, energy and commitment required.
"It was unfortunate for Rosara, but I was very lucky to have someone at her level in New Zealand to push me. She set a pretty high benchmark and I'm grateful for that."
Hanlen's results this year have been impressive, and she is ranked No 22 in the world. She is a strong climber but acknowledged the technical side of the sport doesn't come naturally.
"That's the hardest part for me," she said. "The more you get into the racing of mountainbiking, the more skilled you have to be."
So what about the Games course, at Hadleigh Farm, in the Essex countryside on land owned by the Salvation Army? Hanlen rode it last year, and while she wouldn't pick it as a layout ideally suited to her strengths - the more long uphill stretches, the better - she's confident it will be a fast race.
"Your first impression is of the side of a hill with some rocks chucked on it, but it does flow quite nicely and those rock sections are technical."
The three dominant racers this year have been Canadian Catharine Pendrel, Frenchwoman Julie Bresset and Poland's Maja Wloszczowska. Hanlen expects they will be in the frame for medals, but reckons several others will fancy their chances.
And what of Hanlen? One thing is clear: she's not there simply to make up the 30 riders in the field.
"I want more than to just be going. You've got to have a lot of self-belief. When I was racing in Europe in a few races I had it and I'd be sitting with the top girls in the world and it felt good.
"I'm an unknown and no one expects anything from me. I believe I can make the top 10 and I'm definitely looking at the podium."
Hanlen, with 5-year-old Caleb and Aramia, 3, to consider, won't look beyond London. Although she's a relative novice in the sport, and several other leading riders are well into their 30s, she's smart enough to know a lot can happen before the Rio 2016.
She's off to Europe later this month for the final training and racing period but plans to be back on the job at Whakatane Hospital in October, at which point the whirlwind may just ease up.