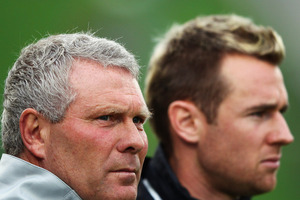 New Zealand 0
New Caledonia 2
As difficult as it might be to comprehend, the All Whites are out of the Oceania Nations Cup and won't be at next year's Confederations Cup in Brazil after they were upset 1-0 by New Caledonia today.
It means they will now play the Solomon Islands in Sunday's playoff for third after the home side were beaten by Tahiti 1-0 in the other semifinal but it was not the match the All Whites expected or wanted to play in.
They have progressed to the next stage of World Cup qualification, by virtue of finishing in the top four, but they desperately wanted to be at the Confederations Cup.
They have only themselves to blame.
Island teams have been guilty of some wasteful finishing at this tournament but today it was the All Whites who will look back on the chances they missed.
They had plenty, mostly from crosses into the box, but they didn't test young New Caledonia goalkeeper Rocky Nyikeine enough and their profligacy meant they put themselves under pressure.
They fell behind on the hour, when Bertrand Kai snuck in between Ivan Vicelich and Tommy Smith and cleverly lifted the ball over goalkeeper Jake Gleeson, and conceded a second in injury time to Georges Gope-Fenepej as they chased the game.
"I'm hugely disappointed,'' All Whites coach Ricki Herbert said. "It was my 53rd game [as coach today] and it was probably the worst moment I have had.
"We weren't good enough. Collectively the performance wasn't there. At the end of the day it was a very dedicated and committed New Caledonia side that were good enough to beat us.
"[Missing out on a place at the Confederations Cup] puts a real dent in the qualifiers. One little blessing is we are still there and get a World Cup shot. We will just have to regroup and have to be better.''
It could be argued this result was coming. They were unconvincing in their three pool games and were lucky they scored early in each of those matches because they often clung on against sides who created but also wasted a lot of chances.
Their superior finishing ability was seen as one of their greatest assets in the tournament but today it let them down. It didn't mean New Caledonia didn't have their chances - they had plenty, too - but players of New Zealand's calibre should finish a least one of the chances they had.
Shane Smeltz missed an uncontested header from 10 yards, Michael McGlinchey struck the crossbar from the same distance and Chris Wood headed over from close range from a corner.
The best save Nyikeine made was when one of his own defenders played the ball onto Kosta Barbarouses and it looked destined for the top corner until the keeper tipped it over.
Too often the All Whites looked ponderous and bereft of ideas. It wasn't until Marco Rojas came on in the 63rd minute that they found a spark as he took on and beat players.
"We analysed New Zealand saw they were a little bit heavy in their movement and we tried to create depth and speed in the game and be aggressive,'' New Caledonia coach Alain Moizan said. "We saw our tactics work today.
"We really believed we were able to do something today. New Zealand don't have better players than us and we have shown today we were as good as them.''
It's the mentality most island teams will take away from this tournament but New Zealand will still be strong favourites to win the home-and-away World Cup playoffs. As much as they struggled in the heat and humidity of Honiara, island teams will struggle with playing in New Zealand.
The All Whites still have high hopes of playing at the next World Cup in Brazil in 2014 but memories of the last one will fade a little faster now.
New Zealand 0 New Caledonia 2 (Bertrand Kai 60, Georges Gope-Fenepej 90). HT: 0-0.
- APNZ