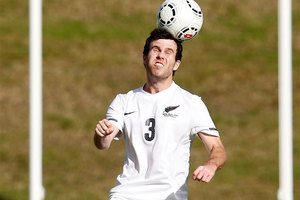 It would be difficult to find many international football sides in which the team's best player and captain is also the chief executive of the national federation.
New Caledonia might be unique in that respect. Not only is Olivier Dokunengo a quality footballer who has impressed at the Oceania Nations Cup tournament in Honiara but he is also chief executive of Federation Caledonienne de Football.
The 32-year-old is only one player the All Whites will need to be weary of in their semifinal tomorrow and, with Bertrand Kai and Georges Gope-Fenepej, New Caledonia have two of the most talented strikers at the tournament.
Despite all that, there are lingering doubts about the pedigree of the Pacific Games champions.
New Caledonia showed tremendous spirit and endeavour to come back from 3-0 down against Tahiti with only nine men to lose narrowly 4-3 but they weren't really pushed in their other group matches.
They easily dispatched Samoa 9-0 and eased their way past Vanuatu 5-2 but have looked vulnerable in central defence and their goalkeeper is both young and inexperienced.
"New Zealand are a very well organised team," New Caledonia assistant coach Thierry Sardo said. "They haven't had many goals against them so we need to be strong in defence and not concede because it would be hard to come back. We need to get some animation into the game but mostly be strong in defence."
It's an area All Whites coach Ricki Herbert is looking to exploit and will restore the five players who were rested for yesterday's 1-1 draw with the Solomon Islands as well as Tony Lochhead, who was suspended.
Herbert was deciding over his formation this afternoon, with deliberations over the merits of a 3-4-3, 3-5-2 or 3-4-1-2.
"There could be one or two surprises," he said.
There is certainty around the defence and Jake Gleeson will remain in goal with doubts still around Glen Moss' fitness and Ben Sigmund and Ivan Vicelich will join captain Tommy Smith in a back three.
Shane Smeltz and Chris Wood will start up front and Chris Killen, Michael McGlinchey, Leo Bertos and Tony Lochhead in midfield but it is the identity of the last remaining member of the side that will determine how New Zealand line up.
Herbert could opt for three in central midfield because they have been overrun in games there but is also mindful of needing enough bodies in the opposition half and the need to get in behind New Caledonia's fullbacks. Kosta Barbarouses, Jeremy Brockie and Aaron Clapham are all in the mix.
New Zealand's three group games followed a similar template with the All Whites scoring early among a handful of chances and then holding on as the opposition threw everything at them as they tired in the hot conditions.
"Nobody has got over the top of us when we have taken the lead," Herbert said. "Psychologically, if we can score again early sides will struggle to beat us."
A defeat would be a major surprise, even considering New Zealand's difficulties so far, and most expect them to line up against the Solomon Islands in Sunday's final.
"We want to show New Caledonia football on the world stage and to create a surprise tomorrow," Sardo said.
"New Zealand are the best team in Oceania. We won the Pacific Games last year so we put ourselves in the top level of the Pacific [teams]. If we are able to win against New Zealand, it would another step forward for us and it would bring a lot of pride to New Caledonia and the players. And it would bring more passion to football in New Caledonia."
It might even make Dokunengo's job as chief executive easier.
Possible All Whites side to play New Caledonia at Lawson Tama Stadium, Honiara, tomorrow (4pm NZT): Gleeson; Sigmund, Vicelich, Smith (c ); Bertos, Killen, McGlinchey, Lochhead; Wood, Smeltz, Brockie.

- APNZ