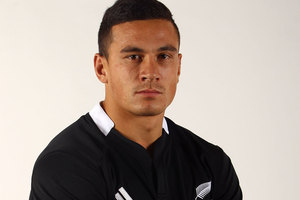 Sonny Bill Williams is easily the country's form second-five but All Blacks' coach Steve Hansen says it has taken three or four years for a player he describes as a "freak" to consistently perform after his switch from league.
At the All Blacks team announcement for the first test against Ireland at Eden Park on Saturday, Hansen mentioned the time it took for Brad Thorn to acclimatise to the game after switching codes.
The same could be said for Williams, he said.
"Brad Thorn took about four years to go from a converted player to understanding the game and we're seeing exactly the same thing happening with Sonny," he said. "[It has taken] three or four years - he has come to our game with a number of skills but he didn't know when to unlock them or when to use them. This season we're seeing a guy who is actually understanding the game and the role that he has in it. We know he's a freak and he can do whatever he wants with the ball.
Having that understanding is making him go up three or four levels."
The player himself, who joined the Canterbury Bulldogs as a 19-year-old and controversially joined Toulon four years ago, said a lot of the credit for finding his niche in the game had to go to his coaches at the Chiefs.
"Obviously I've still got a lot to learn but I think it's just come down to a lot of hard work paying off," he said. "It's become second nature this year and a lot of praise must go to the coaching staff down at the Chiefs. It's probably the best I've had in my whole career - Wayne Smith, Dave Rennie and Tom Coventry, just helping me out on a whole lot of things. My preview and review systems, I think that's really helped my game understanding."
He said of league and its associated shoulder charges and offloads: "You just grow up with it, it becomes second nature. But in saying that, good players evolve with different situations. I've done that so far and it's been pleasing."
Williams will be marking Ireland captain Brian O'Driscoll, a player who also has an unusual skillset.
"He's a world class player. He defends like a forward and [has] an attacking skillset of a No10. We're going to have to be on our game."
Having played 14 tests, 26-year-old Williams is becoming an old hand in the All Blacks, an environment he described as unique.
"If you ask the young fellas coming in, it's a pretty intense environment to come into, it's a pressure cooker because you have to win every game. I've been involved with this team a few years, I'm quite comfortable with the boys. It's probably not so much about fitting in, it's about doing your job well and when you get your shot nailing it.
"We've got to get our game right. They're going to be coming to win and I think they think we're vulnerable at this stage, probably more so in the first test than any other test."

- APNZ