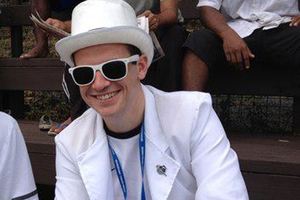 It's not hard to spot Dale Warburton in a crowd, even one made up of more than 20,000 people.
Resplendent in a white suit, white shoes and matching top hat, the 28-year-old Wellingtonian is the odd one out.
Warburton is the only travelling fan following the All Whites at the Oceania Nations Cup football tournament in the Solomon Islands, which also doubles as New Zealand's first round of World Cup qualifiers, and wears the suit at every international he attends.
He wore it at the 2010 World Cup in South Africa and hopes he will have to pull it out of the wardrobe when the next World Cup takes place in Brazil in 2014.
It's something Warburton takes seriously - he and some friends who are also members of the fan group White Noise imported the suits from England and picked up the hats in South Africa - but it also comes at a cost.
On Monday he endured 39-degree heat in Honiara as the All Whites took on Papua New Guinea. By the end, the trousers were rolled up and jacket well and truly dispensed with.
"It's pretty draining watching games here," he said. "You don't realise it at the time but you just come back after a game and want to go to sleep. It's pretty tough for me but I can't imagine what it's like for players or referees.
"But I have committed myself to the suit, so I can't bail out now."
Warburton, who works for the Ministry of the Environment, describes his relationship with football as "bordering on obsessive". He played Central League for Wellington United as a goalkeeper before his finger was broken by former All Whites midfielder Andy Barron, is a member of Yellow Fever who support the Wellington Phoenix, watches a lot of national league and club football and coaches as well.
"It's my one outlet from other things and takes up a fair chunk of my week," he said. "I'm pretty confident I'm the only travelling supporter and I don't know what that means about me. I don't know if that's a good or a bad sign.
"It's certainly an experience being here. I went to the World Cup in South Africa and that was an eye-opener in terms of the difference between countries. This is that next step. South Africa is a reasonably developed Third World country but this is an actual Third World country.
"The people here have been really nice. They will come and chat to you in the stands and ask you where you are from. They will support the All Whites and try to start some chants. It's been really good."
- APNZ