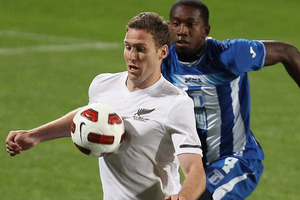 Football is a nomadic existence at the best of times. For every Steven Gerrard who plays out his career at Liverpool, there are thousands who drift around.
All White Chris Killen is one of those. Some of that is by choice, at other times because of circumstance.
Since leaving New Zealand as a 17-year-old, he's played at Manchester City, Wrexham, Port Vale, Oldham, Hibernian, Celtic, Norwich and Middlesbrough.
Last year he moved to Shenzhen to play in China League One and this season he's moved to Chongqing in Sichuan province.
It has been difficult, but Killen sees it as another entry into his footballing chronicles.
"Culturally it's a big change, even this year," said Killen, who is in Honiara with the All Whites at the Oceania Nations Cup.
"Last year in Shenzhen it was a pretty westernised city on the border with Hong Kong.
This year, we're right in the middle of China.
"There's very little western influence, there are close to 40 million people there. It's just a big jungle, really. There are people there who are uneducated and whose social behaviour can be a bit strange to see. You kind of close your eyes and pretend you didn't see it. That's China.
"Socially they are catching up, slowly, but financially they are booming. You can see that even in the city I am in. Every day there's a new hotel, new school. They are not building buildings at once, they are building small cities at the same time. It's quite incredible to see."
It's not much different in football, where things change at a similar pace. His time at Shenzhen ended abruptly when a new manager came in and wanted to change the squad almost entirely.
The 30-year-old soon moved to Chongqing with his wife and 4-year-old daughter where the money on offer was significantly more than anything he could hope to earn in a financially repressed European footballing market.
"It's amazing there," he said. "Every new window there's a new team. There's no history with the football. If a businessman wants a team, he can move them from Shanghai to Beijing if he wants. But at the same time investing millions of dollars.
"There are four or five teams now in the Super League spending money teams in Europe can't match. A lot of people won't go there because it's China but I think eventually people will see there are offers there they can't turn down."
It has already lured Nicolas Anelka and Didier Drogba is rumoured to be joining his former Chelsea teammate at big-spending Shanghai Shenhua soon.
Killen is one player who is probably coping with the heat and humidity of Honiara more than most, given games in China are often played in 35 degree-plus heat and 90 per cent humidity.
He won't start against the Solomon Islands today as coach Ricki Herbert looks to rest a number of his first-choice starters, but is likely to come back in for Friday's semifinal.
Killen doesn't really have a plan beyond this season, he knows things can change quickly.
"I might go back to my club after this and they might say they want me out. I'm off. That's life. Just get on with it, find your next move and start again.
"It's a short career so make the most of it and take what you can from it. I am in China and out of my comfort zone but I am learning a new culture and language. Come the end of my career, I will be able to look back and think, 'I had a few years back there, enjoyed it'. A lot of people don't get that opportunity."
- APNZ