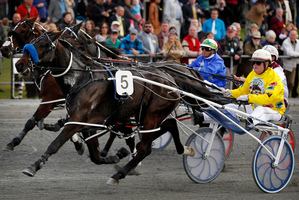 The real mark of Barry Purdon's training greatness isn't the $300,000 Five Card Draw has won this season.
It is the $400,000 he won't be chasing this winter.
Purdon's juvenile bulldog capped a stellar first term with a typically brave-all-the-way win at the Jewels on Saturday, his third group one success for the season.
With his perfect manners, newly found gate speed and will to win Five Card Draw is the ideal horse to attack the $400,000 Australasian Breeders Crown in Victoria in August.
With the Purdon polish on him you could just see him circling Melton to victory and ending one of the great 2-year-old pacing careers in New Zealand history.
But instead he will be jogging around in South Auckland after enjoying his winter spell.
Because although Purdon knows Five Card Draw can win the ABC, he is going to ignore the richest age group race in Australasia because he is adamant that is best for the gelding long-term.
"He has had a great season but he deserves a break now," Purdon told the Herald. "We could chase the crown and sure, I'd love to be there, but the time is right to give him a spell and hope he comes back even better as a 3-year-old.
"It is not what everybody would do but I have always been a bit that way, I think the horse has to come first," the trainer said.
After well over 2200 career training wins Purdon's formula obviously works.
Just consider his old mate Holmes D G, who after winning four Derbys was surprisingly allowed to miss the New Zealand Cup as a 4-year-old because Purdon thought it was the "right thing to do".
Holmes D G went on to win $1.9 million and was still sound enough to race as a 10-year-old.
Purdon was right.
Five Card Draw's win on Saturday will see him almost unanimously win the juvenile Pacer of the Year title and another of those titles was decided in Saturday's next race when Terror To Love also led throughout.
The New Zealand Cup winner was meeting a somewhat tired bunch, especially as arch-rival Gold Ace was a shock withdrawal an hour before the race with colic.
So Terror To Love cruised to the front and dawdled around in 1:54.3 to all but guarantee himself the overall Pacer of the Year honour.
Even though this season's pacing ranks have lacked genuine star power, the award will look good on Terror To Love's stallion resume.
He hasn't done enough yet to make himself a hugely commercial prospect in the flooded stallion market so he will race on next season.
This is great news because the open-class ranks cannot afford to lose the brightest stars.